South Korea's Consumer Sentiment Improves for Third Month
(Bloomberg) -- South Korea's consumer confidence improved for a third straight month in July, offering another sign that the country has passed the worst of the pandemic hit.
The consumer sentiment index rose to 84.2 this month from 81.8 in June, the Bank of Korea said in a statement Wednesday. Despite the improvement, the gauge has yet to reach pre-virus levels that exceeded the 100 threshold which separates optimism from pessimism.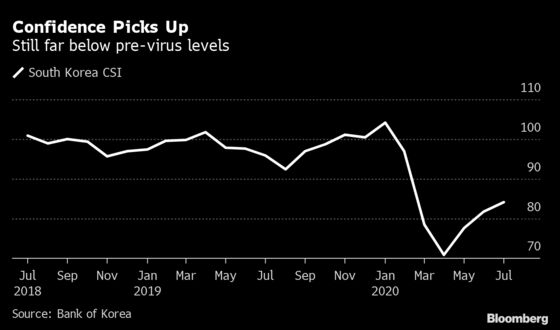 The improvement comes after South Korea's economy contracted more than expected in the second quarter, falling into the country's first recession since 2003. The rise in confidence adds to evidence that last quarter was probably the worst for the economy, with improvements in consumption and exports pointing to a rebound in growth.
Still, the gain in sentiment was smaller than in May and June, suggesting the economy's recovery will be a drawn-out process, affected by virus developments at home and abroad.
South Korean households' outlook on income contributed the most to the gauge's increase, followed by spending projections and assessment of the current economy.
The consumer sentiment index was determined by surveying 2,376 households from July 10 to 17. Households' inflation expectations for the next 12 months rose 0.1 percentage point to 1.7%.