Bank of Korea Plays Down Weaker Growth, Sees Recovery on Track
South Korea's central bank played down a virus-induced slowdown in growth, saying the economy's recovery remains on course, potentially signaling it plans to push ahead with an interest-rate increase.
Gross domestic product rose 0.3% in the July-to-September period, down from 0.8% in the second quarter and just half the 0.6% forecast by economists, data from the Bank of Korea showed Tuesday. Government bond yields climbed after the release, indicating investors didn't see it as an impediment to a rate hike.
The BOK's assessment suggests officials plan to look through the weaker outcome, which reflected global supply chain snags that hurt investment and virus restrictions that crimped household spending. The central bank remains optimistic that a rebound in the final three months of the year will see the economy meet its earlier projected 4% annual expansion.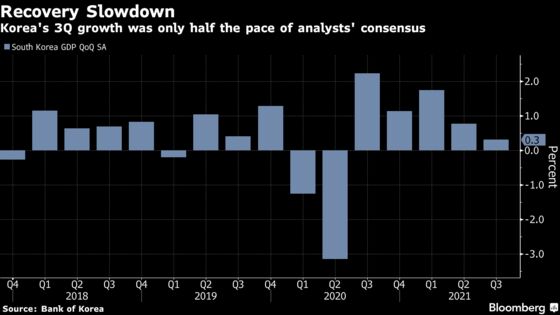 With more than 70% of the population now fully-vaccinated, the government is planning to lift restrictions and plot a "gradual return to normal life," a shift that should provide impetus to consumer spending. 
"While Korea's recovery lost some momentum last quarter as the virus weighed on growth, the economy should pick up pace again this quarter," Alex Holmes, Asia economist for Capital Economics, said in a research note. "The Bank of Korea is unlikely to be deterred."
Having initiated a tightening cycle in August, in part to try to temper surging asset prices, Governor Lee Ju-yeol has said the BOK will consider another hike in November in the event the recovery proceeds as anticipated. 
Growth had been expected to ease in the third quarter as daily infections surged above 1,000 from July and authorities imposed a semi-lockdown in Seoul and other major cities.
"The outcome is not something to worry much about," Hwang Sang-pil, a director-general at the BOK's economic statistics department, told reporters. The government's transition to living with Covid and an upcoming reduction in fuel taxes will support consumption in the final quarter, Hwang said.  
South Korea's exports have remained buoyant this year, aided by resilient global demand. Still, factory shutdowns in Southeast Asia created challenges in securing key manufacturing components, particularly for Korea's automakers.
What Bloomberg Economics Says...

"South Korea's slower-than-expected third-quarter growth likely won't deter the Bank of Korea from proceeding with a strongly-signaled interest rate hike in November. We expect the setback to be temporary, with a vaccine-driven rebound in domestic consumption and resilient external demand poised to buoy the economy in 4Q."

-- Justin Jimenez, Asia Economist

Read full report here 
Looking at GDP by component, private consumption fell 0.3% last quarter from the April-June period. Government spending was up 1.1%. Exports, as measured on a real basis, increased 1.5%, while facilities investment fell 2.3%. 
In terms of contributions to growth: 
Investment was the biggest drag, shaving 0.6 percentage point off the quarterly expansion, hurt by rising raw material costs and difficulties in securing auto-manufacturing chips
Private spending cut 0.1 percentage point, while government spending added 0.2 percentage point; and
Net exports added 0.8 percentage point
The BOK on Monday flagged risks to the economy from China's energy crunch and property market woes. It estimated a 1 percentage point slowdown in China reduced Korea's growth rate by 0.1-0.2 percentage point.