South America Trade Bloc Members Want Overhaul, Argentina Says
(Bloomberg) -- All members of South America's main trade bloc are ready to do away with years of protectionist policies preventing them from signing accords with other regions, according to Argentina's top diplomat.
Formed in the 1990s, Mercosur has been hamstrung by an emphasis on tariffs and protectionism over free trade pacts. That all has changed, as Argentina, Paraguay, Uruguay and Brazil -- the organization's members -- now share the same willingness to reform, said Argentina Foreign Affairs Minister Jorge Faurie.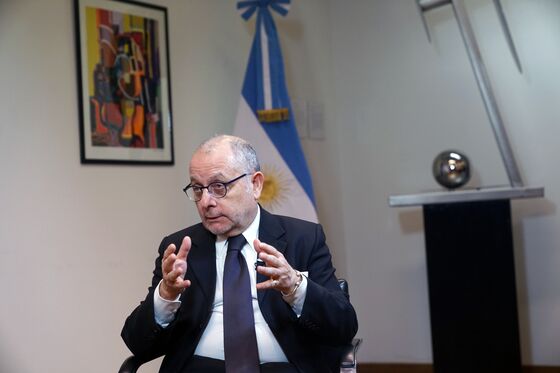 "We're all on the same page," on trade, Faurie said in an interview in Buenos Aires late on Friday. "We all agree that we're too rigid, too shuttered and that makes us uncompetitive. One of the most important things is that Argentina is willing to liberalize and open up more."
This year's presidential elections in Brazil, Latin America's largest economy, have proven to be a catalyst for plans to overhaul the four-nation customs union. President-elect Jair Bolsonaro is promising voters a major overhaul of that country's trade practices after decades of protectionism. Argentine President Mauricio Macri, as well as leaders in Uruguay and Paraguay, also have free trade ambitions.
On-going trade negotiations between Mercosur and the European Union represent a test of the bloc's ability to change. At several points this year, Argentine leaders have said the deal was very close to being done.
Still, talks recently faltered due to disagreements on topics such as automobiles. EU Trade Commissioner Cecilia Malmstrom said on Nov. 9 that negotiations were hindered by "some difficult issues."
Faurie said meetings are continuing, and that Mercosur ministers are going to meet Dec. 5 or 6 in Brasilia to review the technical work.
Bolsonaro has proposed allowing Mercosur nations to negotiate their own bilateral free trade agreements with other countries outside the bloc. Faurie would not say if he specifically supports such a measure, though he made it clear that the organization's current policies are hurting more than helping.
"The Mercosur customs union is one of the most closed blocs in the world, and this is not efficient for those of us who are members and want to have a new dynamic," Faurie said. Mercosur nations "have to come together and see what's the best way to integrate with the world."