South Africa's Annual Current-Account Gap Is Widest Since 2015
(Bloomberg) -- The deficit on South Africa's annual current account widened to the biggest in three years in 2018 as the trade surplus deteriorated.
The deficit on the current account, which is the broadest measure of trade in goods and services, increased to 3.5 percent of gross domestic product in 2018 from 2.5 percent in the previous year, the South African Reserve Bank said in a statement Thursday.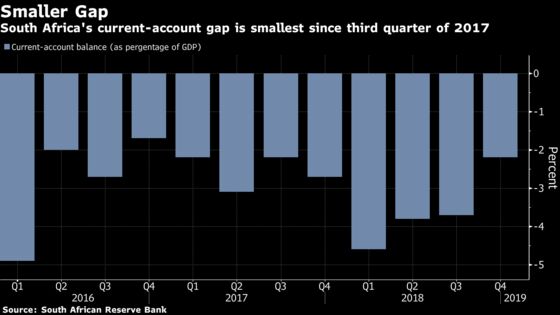 The shortfall may keep pressure on the rand, which has weakened 13 percent against the dollar since the start of 2018. The deficit on South Africa's current account and a fiscal shortfall of at least 4 percent of GDP make the country vulnerable to external shocks.
On a quarterly basis, the shortfall narrowed to 2.2 percent of GDP in the fourth quarter from a revised 3.7 percent in the three months through September. The median of estimate of 11 economists in a Bloomberg survey was for 3.2 percent.
The trade surplus widened to 71.8 billion rand ($5 billion) from a revised 10.2 billion rand in the third quarter as the value of exports exceeded that of imports. Data from the South African Revenue Service showed the country recorded the biggest trade surplus on record in December. On an annual basis, the positive balance on the trade account deteriorated to 24.3 billion rand from 64.9 billion rand in 2017.
The National Treasury sees the 2019 current-account shortfall at 3.4 percent of GDP, while the central bank forecasts a gap of 3.7 percent for the same period.