South Africa Mulls Singapore as Reference for Basic Fuel Price
(Bloomberg) -- South Africa's Department of Energy proposed changes to the structure of the nation's basic fuel price as it seeks to reduce the cost of gasoline and diesel.
The proposals include making Singapore the main reference market for the basis price of gasoline, diesel and kerosene, removing a premium on the freight rate and reducing the coastal storage element in the calculation.
The basis fuel price accounts for just under half of the retail price of gasoline, which is regulated by the government, and is determined by the movement of international prices and the rand's exchange rate. The proposals published for comment in the Government Gazette make no mention of changes to taxes and levies make up almost a third of the gasoline retail price.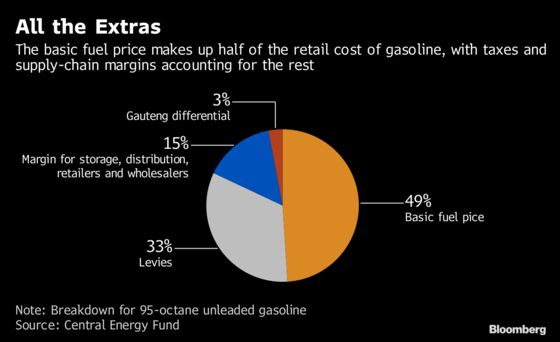 The gasoline retail price has increased 22 percent over the past year to a record high in October, adding to pressure consumer spending and fueling inflation. While Energy Minister Jeff Radebe was reported to have said the government will finalize proposals to cap the price of 93-octane gasoline by the end of January, Finance Minister Tito Mboweni said in last month's mid-term budget the fuel levy will need large increases to manage the liability of its loss-making Road Accident Fund.
For September, Radebe announced a temporary intervention to limit the monthly price increase, but in October the cost shot up by 1 rand to more than 17 rand ($1.22) a liter in the Gauteng province.