Someone Just Wrote Black Swan Options on the Hong Kong Dollar
(Bloomberg) -- Hong Kong authorities have never failed to keep the local dollar at its peg, or since 2005 within a set band against the dollar, yet that hasn't stopped someone from writing options on a black-swan event.
Contracts were struck at 8.00 per dollar in the past 24 hours, even though the Hong Kong Monetary Authority has in past days demonstrated the same commitment as ever to its band of 7.75 to 7.85. It bought the Hong Kong dollar on Friday as it hit the weak end, extending a successful record of beating back speculators since the peg was introduced in 1983.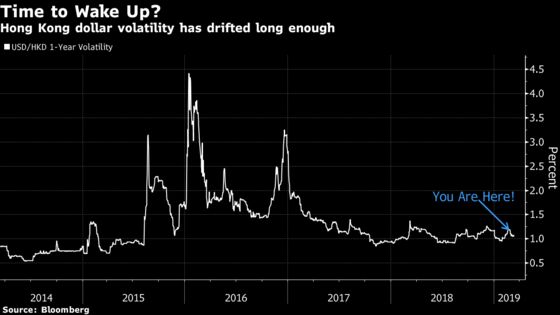 The appeal of the 8.00 bet to some traders is that it is so cheap, with one-year implied volatility on the exchange rate at 1.06 percent. Over the past five years, it has ranged from 0.5 percent to 4.4 percent. As volatility increases, so does the value of the option.
Options struck at 8.00 per dollar have the additional benefit of being out-of-the-money, which can mean a faster increase in value than contracts set closer to the spot rate.
If the HKMA is forced into a protracted battle around the 7.85 area, there could be a sufficient jump in volatility for those options pay back on their investment -- and then some. Especially as there is likely to be a simultaneous squeeze in the Hong Kong dollar forward curve, which would also stoke volatility.