Some ECB Officials Wanted Lagarde to Mention Subzero Rate Risks
Some European Central Bank policy makers wanted a reference to the damaging side effects of negative interest rates included in President Christine Lagarde's statement after the Governing Council meeting on Thursday, according to euro-area officials familiar with the matter.
The debate was relatively brief before the council decided that taking such action -- at Lagarde's first monetary-policy decision -- could be overinterpreted by investors, the officials said, asking not to be identified as the discussions were confidential. An ECB spokesman declined to comment.
While the policy makers backed down, the internal debate highlights the tension building over subzero rates in Europe, an issue that Lagarde won't be able to skirt forever. In its own Financial Stability Review last month, the ECB flagged concerns such as excessive risk-taking and the erosion of bank profitability.
Hours before Lagarde spoke, Swiss National Bank President Thomas Jordan devoted much of his own press conference to defending his institution's own subzero policy. Swedish central bankers are planning an exit from negative rates as early as next week.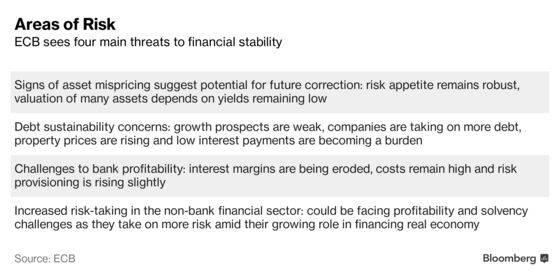 Banks and pension funds in Europe have long complained that the policies are hurting their business and forcing them to chase relatively illiquid investments in search of higher returns. It's also become a political issue in savings-oriented nations such as Germany, with politicians and media railing against the strategy.
The ECB's deposit rate was first cut below zero in 2014 by Lagarde's predecessor, Mario Draghi, to spur investment and spending as he fought to stave off deflation. In September this year, just weeks before he stepped down, the Governing Council lowered it again to minus 0.5%.
That meeting was especially contentious, and around a third of the 25-member body opposed the package of rate cut, resumption of quantitative easing and looser terms on long-term loans to banks.
Lagarde said on Thursday that she has no plans to revisit that decision, and the current ultra-loose stance must remain given the weak economic outlook. Yet neither did she show much enthusiasm for negative rates, and she said an upcoming strategy would consider the effectiveness of each of the central bank's unconventional tools.
"We are very aware of the side effects," she said in answer to a question, in an otherwise cautiously upbeat press conference. "The side effects are a preoccupation. There is no question about that and we would not be doing our job if we were not monitoring and being extremely attentive to that balance of cost-benefit of such measures."