SoftBank Slide Owes More to Chips Than Saudi Links
(Bloomberg Opinion) -- Shares of SoftBank Group Corp. were down 13 percent in the two weeks to last Friday.
Nvidia Corp., in which the Japanese technology company's SoftBank Vision Fund is a major investor, plummeted 12.3 percent over the same period.
That's not a coincidence, though it makes more sense to look at the connection in reverse. On Monday, SoftBank fell a further 7.3 percent while the U.S. chip designer's European shares were trending lower in early trading.
SoftBank's dive has also been linked to an outcry against the Saudi Arabian government after the disappearance of journalist Jamal Khashoggi. Saudi Arabia's Public Investment Fund is a major investor in the $100 billion SoftBank Vision Fund and earlier this month announced plans to invest $45 billion more for another fund.
The optics of being connected to the Saudi regime are bad for SoftBank – especially given the parade of organizations that have pulled out of a Saudi forum scheduled for later this month because of Khashoggi's disappearance (the list includes Bloomberg LP, the owner of Bloomberg News).
Realistically, investors are more swayed by the market downturn. Technology stocks are among the worst hit by a global slide since Oct. 1, with consumer discretionary and materials being the biggest drags on MSCI's World Index.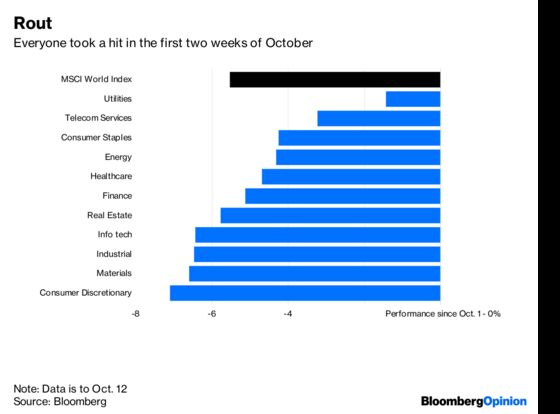 For SoftBank, a Japanese telco-cum-VC, it's becoming increasingly apparent that exposure to swings in global equities isn't a bug but a feature.
Also quite telling is the fact that the company's recent decline is more correlated to that of Nvidia than broader Japan or U.S. indices. Look at the chart for the past two weeks and you can see how closely they track.
Back in May, I noted that the meteoric rise in Nvidia's share price was the major factor driving SoftBank's operating profit last fiscal year. The Japanese company is a key shareholder of Masayoshi Son's SoftBank Vision Fund, which bought $5 billion of shares in Nvidia last year.
The chip designer is the third-largest holding of the Vision Fund, according to Bloomberg data, behind only Uber Technologies Inc. and a holding company that owns ARM Holdings Plc, neither of which are listed. By my calculation, Nvidia accounts for 18.5 percent of the Vision Fund's deployment as of June 30 when measured by acquisition cost.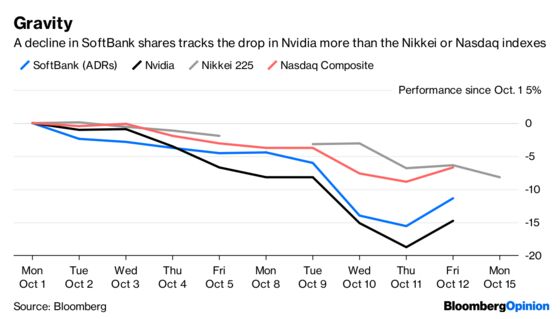 That proportion may well be higher if measured by market value, given that Nvidia stock has climbed. But maybe valuations of Uber as well as other unlisted investments such as GrabTaxi Holdings Pte and WeWork Cos. have also gone up.
Which is kind of the problem.
Investors in SoftBank, the Japanese telco, can build models to guesstimate the value of its holdings – an increasingly important factor in valuing the company. But Nvidia is one of the few where we can measure changes in real time. For better or worse, Nvidia's position as a semiconductor company selling chips for AI and self-driving cars makes it a rough proxy for the Vision Fund's two other major investments, ride-hailing giant Uber and chip-technology developer ARM.
Nvidia's recent fall not only hits the value of SoftBank and its Vision Fund directly, but amplifies sentiment for other investments that are heavily concentrated in chips and transport (a truck-hailing company is among its biggest bets).
When I wrote about the Nvidia deal, I gave kudos to SoftBank chief Masayoshi Son for picking a winner. But investors need to remember there's a flip side when investments decline. With so much of the portfolio hidden from view, any swings in publicly traded shares may exaggerate the outlook for SoftBank itself.
This column does not necessarily reflect the opinion of the editorial board or Bloomberg LP and its owners.
Tim Culpan is a Bloomberg Opinion columnist covering technology. He previously covered technology for Bloomberg News.