Societe Generale Has Found a Way to Make Coeure ECB President
(Bloomberg) -- Societe Generale has an idea for a deal that would secure the European Central Bank presidency for Benoit Coeure in a few years.
The Frenchman is currently serving a non-renewable eight-year term on the ECB's Executive Board, which practically rules him out of the race to succeed Mario Draghi, who steps down in October. But there is a tried and tested way out of this legal conundrum, according to Societe Generale economist Anatoli Annenkov.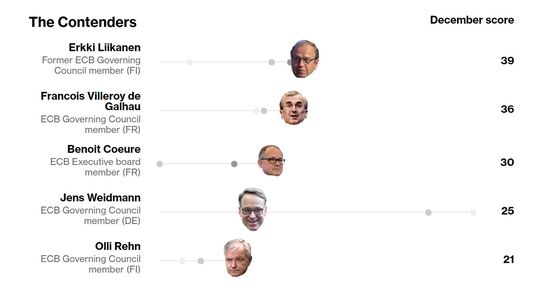 He suggests that the job could initially go to retired Finnish central banker Erkki Liikanen, who would step aside mid-term and Coeure, 49, would take over. This arrangement would be similar to how the appointment of the first two ECB presidents played out: Wim Duisenberg stepped down early in 2003, making way for Jean-Claude Trichet.
Coeure has been in charge of ECB's market operations since 2012 and was one of the architects of its quantitative easing. ABN Amro said last month the Frenchman "stood out" in the race to succeed Draghi. The latest Bloomberg survey ranked him as the third most likely candidate behind Liikanen and French central bank governor Francois Villeroy de Galhau.
Coeure could also resign early (his current term runs until the end of 2019) and apply for Draghi's job. But that would be "too far from the spirit" of the European Union treaties and legally risky, according to Annenkov.