After EU Snub, North Macedonia and Albania Stumped by ECB Challenge
(Bloomberg) -- The European Union's snub of two enlargement candidates on the bloc's southern flank triggered political tremors last year.
Now, North Macedonia and Albania are facing pressure from another source in the bloc: the European Central Bank, where President Christine Lagarde signaled all options are on the table for reviving inflation after it kept its policy ultra-loose on Thursday.
The tiny Balkan economies are closely linked to the single-currency area, home of their biggest trading partners, and like much of the rest of Europe, they've slashed interest rates in an unsuccessful struggle to stoke growth and inflation. They're also walking a fine line on the balance between keeping investors interested without triggering flight by loosening too much.
In North Macedonia, where the denar is locked in a managed float against the euro, the central bank cut its benchmark to a record low 2% this month as it tries to cool the enthusiasm of investors drawn to the currency's higher yield over the euro and citizens' tendency to hold cash.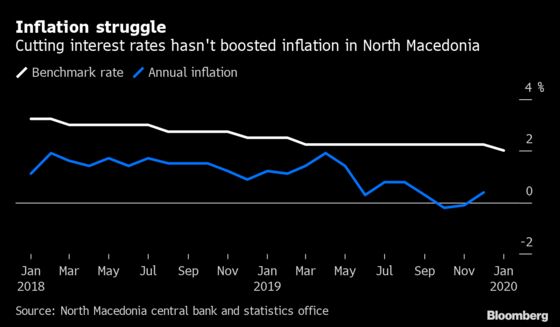 That attraction has also undercut inflation, which dipped below zero last year. North Macedonia is now trying to discern how much lower toward zero its benchmark can go, central bank Governor Anita Angelovska-Bezhoska said.
"North Macedonia has to keep some spread in relation to the interest rate in the EU, so it's difficult to quantify," she said last week at a Euromoney conference in Vienna. "We are still facing discussions how to improve the effectiveness of the zero lower bound."
French President Emmanuel Macron blocked the start of EU accession talks with Albania and North Macedonia in October. The latter's prime minister, Zoran Zaev, resigned after a politically painful battle to change the country's name and resolve a decades-old dispute with Greece. The country is now headed toward snap elections.
That has stoked political uncertainty. And, combined with a new bout of loosening from the ECB, people are hoarding cash in local currencies, which makes it more difficult to make monetary policy effective, Angelovska-Bezhoska said.
There's a similar impact in Albania. Since cutting its benchmark rate to 1% in mid-2018, the central bank has little room to maneuver. It has seen the lek strengthen against the euro, even as economic growth slows. And inflation, which has undershot the central bank's target since 2011, decelerated at the end of last year.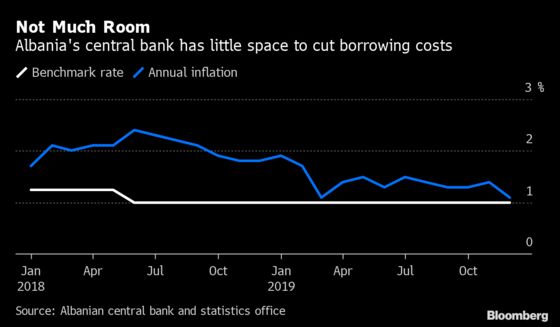 The ECB's extra-loose monetary policy has led to "some appreciation of the local currencies, which is to some extent influencing negatively inflation targeting," central bank Governor Gent Sejko said at the Euromoney conference.
Last month, he wrote that risks including a further economic slowdown in the euro area as well as domestic political tensions at least partially tied to the EU snub could trigger "uncertainties and potential shocks to the exchange rate," shifting it away from the equilibrium. If dangers materialize, the Bank of Albania would have to consider more loosening.
"The effect will be limited, but we still have some space for a decrease" in rates, he said.