SNB's Jordan Gets Caught Between Franc and a Strong Economy
(Bloomberg) -- Thomas Jordan and his Swiss National Bank colleagues are caught between the heavyweight forces of a strong economy and a strong franc.
A rally because of investor unease about Italy, Turkey and Argentina has put the currency back where it was a year ago, keeping the SNB on alert about a damaging appreciation. But the move has come in tandem with a robust economic outlook, making it harder for Jordan to justify the current negative interest rates and intervention pledge.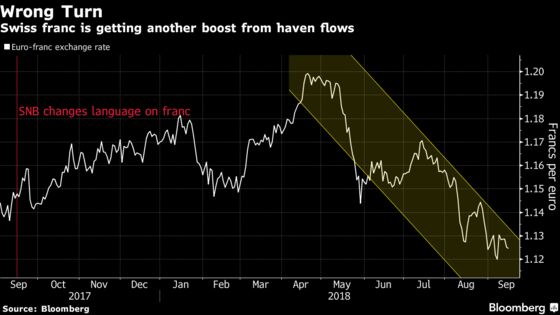 "In terms of communication, it's going to be a bit complicated," said Nadia Gharbi, an economist at Pictet in Geneva. Even with the sturdy economy, the SNB will "continue with the same language, saying the situation on foreign exchange markets is still too fragile to allow them to think about changing monetary policy."
It's exactly a year since Jordan took a baby step toward policy normalization, changing the wording on the franc to "highly valued" from "significantly overvalued."
It went well for a while, with the currency in April touching the symbolic 1.20 level, which the central bank once defended. But it's since appreciated more than 6 percent and stood at 1.12527 per euro at 1:54 p.m. in Zurich on Tuesday.
That's making for a difficult backdrop for the SNB's latest announcement, due on Thursday in Zurich. Economists in a Bloomberg survey expect the deposit rate to remain at a rock-bottom minus 0.75 percent -- the lowest of any G-10 central bank.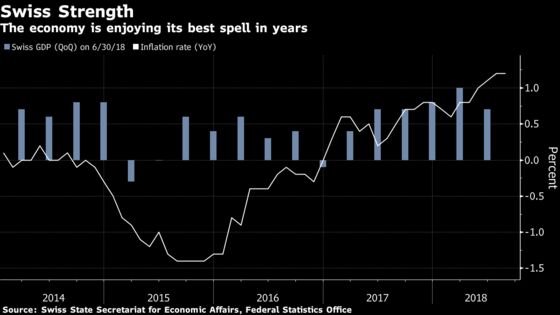 Data this month showed the Swiss economy is enjoying its best spell of growth in years. Inflation has also picked up, with the headline rate within the below-2-percent range defined as price stability. Price growth, at 1.2 percent, is above its average over the past two decades.
That has Sarasin economist Karsten Junius arguing the SNB needs to come up with some new turns of phrase to reflect the rosier picture.
"I was aghast how little the central bank's communication fits with the economic situation," he said. "It affects the credibility of the central bank when you only see the risks in one direction."
For the franc, those risks include Italy's budget and the expensive promises made by the ruling coalition, global trade disputes, and market instability sparked by Turkey and Argentina.
The SNB will update its outlook for growth and inflation on Thursday. In June, it forecast expansion of around 2 percent this year, with inflation of 0.9 percent in 2018 and 2019, and 1.6 percent in 2020.
Economists in a Bloomberg survey see economic growth hitting 2.6 percent this year and 1.8 percent in 2019.
But even with a solid outlook, the franc's shift in direction is the dominant force. Credit Suisse softened its bullish call on the SNB, pushing out its forecast for a rate hike by half a year to September 2019.
"Especially at the moment, you can reasonably argue that there are more risks for global growth compared with June," said Credit Suisse economist Maxime Botteron in Zurich. "The SNB is unlikely to adjust its communication."