SNB Sight Deposits Hit Record in Week Franc Appreciated
(Bloomberg) -- The amount of cash commercial banks hold at the Swiss National Bank hit a fresh record of 713.2 billion francs ($779 billion) last week, data showed Monday.
Sight deposits, which investors watch closely for signs of SNB foreign-exchange interventions, rose by 1.24 billion francs, the largest weekly rise since mid June. Sight deposits spiraled during the initial stages of the pandemic, when the SNB waged heavy interventions to limit an appreciation of the franc.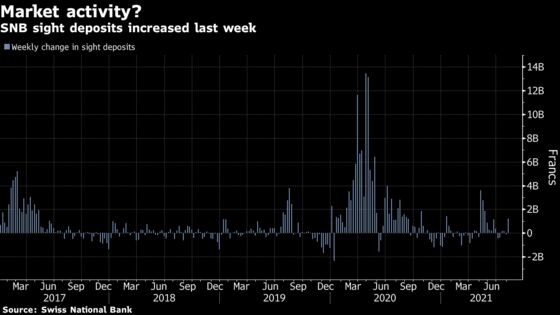 The franc surged to its strongest since November against the euro last week as investors sought out haven assets amid concerns about the spread of the delta variant of the coronavirus.
A spokeswoman for the SNB, which also uses negative interest rates to control the value of the currency, declined to comment on the increase in sight deposits. The figure included transactions from Monday, Tuesday and part of Wednesday of last week, she said.