SNB's U.S. Stock Portfolio Hit $150 Billion as Market Rallied
The value of the Swiss National Bank's U.S. equity portfolio climbed to $150 billion at the start of the year, lifted by a rallying stock market.
The central bank's filing to the Securities and Exchange Commission showed it held stakes in 2,482 listed companies at the end of March. Among them were Facebook Inc. and Exxon Mobil Corp., as well as Covid-19 vaccine-makers Moderna Inc. and Johnson & Johnson.
Peabody Energy Corporation no longer featured on the list, after the SNB said it would stop investing in coal mining companies.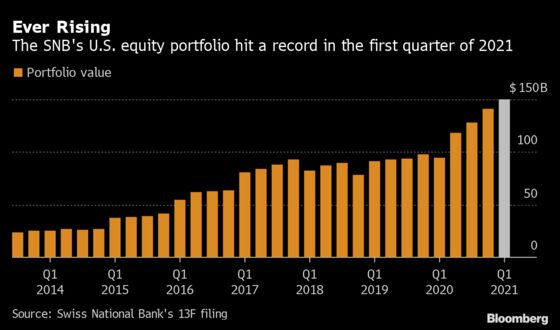 The SNB has more than 900 billion francs worth of foreign exchange holdings, the result of its interventions to weaken the franc. Just over 20% are held in stocks, with the rest in highly rated bonds.
The SNB's investments are designed primarily to serve its monetary policy objectives rather than to turn a profit.
A spokesman for the SNB declined to comment on Friday's SEC filing.
Read More:
SNB Reacts to Climate Calls, Cuts Coal Firms From Investments