SNB's Jordan Says Negative Interest Rates Are Still Key
(Bloomberg) -- President Thomas Jordan said the Swiss National Bank's loose monetary policy stance remained appropriate, according to a statement from the government.
"The SNB stressed that due to the very low inflationary pressure and the continued fragility of the economy, the SNB's expansive monetary policy, with negative interest rates and a pledge to use currency market interventions, remained necessary," the government said in a communique on Wednesday following its annual closed-door meeting with the central bank chief.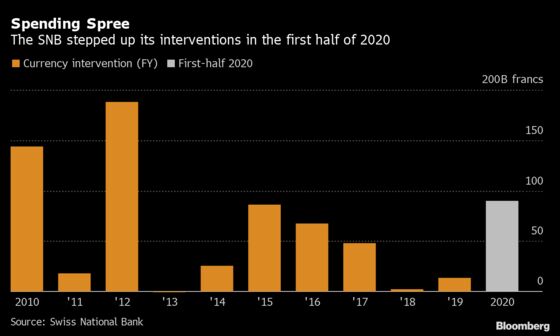 The policy has proved its worth and is "essential to limit the negative effects of the pandemic as much as possible," the statement also said.
The SNB's deposit rate has been at an ultra-low -0.75% since 2015, part of its strategy to stem appreciation pressure on the haven franc.
It's other key tool is currency market interventions, something the SNB ramped up this year. It bought 90 billion francs ($98 billion) worth of foreign exchange in the first six months of 2020.