SNB Raises Government Payout to $6.7 Billion After Bumper Profit
(Bloomberg) -- The Swiss National Bank will pay the government as much as 6 billion francs ($6.7 billion) a year, as part of a revised agreement regarding the profit it generates on its vast foreign exchange reserves.
The SNB said that the base amount for the federal government and the cantons will be 2 billion francs per annum. It can distribute up to 4 billion francs additionally, if its profit for a given year is high enough.
For 2020, the full 6 billion will be paid, according to a statement on Friday. That's up from 4 billion francs announced earlier this month. The new agreement will be in force until 2025.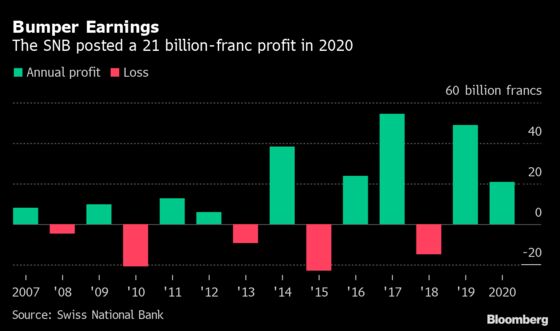 The SNB derives income from its foreign exchange reserves, gold holdings and negative interest rates.
The agreement between the central bank and the finance ministry was scheduled to be revised, and with the Swiss economy in the midst of its deepest crisis in decades, the SNB had faced calls to increase its payout.
Read More: SNB Eyes Critics With Handout from $51 Billion 2019 Profit