SNB Treads Carefully as Franc Rally Casts Shadow Over Economy
(Bloomberg) -- The Swiss National Bank kept interest rates at rock bottom and maintained its intervention threat, but stopped short of toughening its language on the franc despite its recent rally.
The appreciation -- driven by investor unease about Italy, Turkey and Argentina -- is the latest episode in the central bank's battle to stave off haven inflows whenever a crisis breaks out. In a statement, President Thomas Jordan and his colleagues stuck with their description of "highly valued," though they added that the franc has "appreciated noticeably."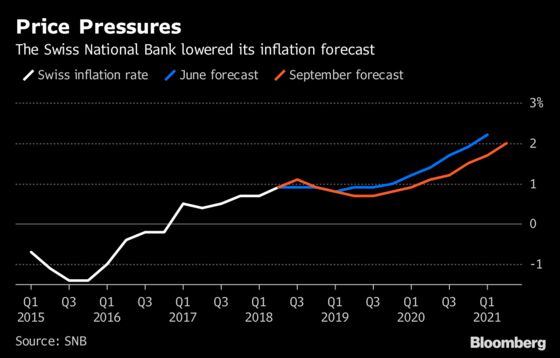 The franc, which has gained 6 percent against the euro in the past five months, weakened slightly on Thursday. It was down 0.2 percent to 1.13091 as of 10:30 a.m. Zurich time. Earlier this year, it reached as low as 1.20 per euro, a level the SNB once defended.
"The situation on the foreign exchange market is still fragile," the central bank said, adding that it's current policy remains "essential" to ease pressure on the currency.
In a widely expected move, the institution left its deposit rate at minus 0.75 percent and made no change to its target range for three-month Libor.
Currency-market interventions have been part of the SNB's toolkit for roughly a decade, and it's supplemented them with a charge on sight deposits to keep interest rates in Switzerland below those of the euro area. The stronger the franc, the greater the risk of deflation and the export-oriented economy suffering a slowdown.
Given the franc's latest appreciation, the SNB cut its inflation forecast for the next two years. It sees consumer-price growth averaging 0.8 percent next year and 1.2 percent in 2020, down from 0.9 percent and 1.6 percent in June.
"With that forecast, the SNB wants to stress its cautious stance," said Alessandro Bee, an economist at UBS in Zurich. "We don't see an interest-rate rise before September 2019, if the European Central Bank also tightens then."
In Norway on Thursday, the central bank raised interest rates for the first time in seven years as policy makers start unwinding the record stimulus put in place to fend off the worst oil crisis in a generation.
Even with the franc's strength, the Swiss economy is booming, as the government acknowledged earlier this week. The SNB raised its 2018 GDP forecast to between 2.5 percent and 3 percent, compared with around 2 percent in June.
But both the central bank and the government also cited the risk of a stronger currency smothering growth. Risks include a fallout from Italy's budget, turmoil in emerging markets, and a worsening of the U.S.-China trade war.