SNB's Jordan Defends Negative Rate Policy as Criticism Mounts
Swiss National Bank President Thomas Jordan unleashed a staunch defense of negative interest rates, insisting the controversial policy is the only way to keep the franc in check and help the economy.
As Switzerland approaches the five-year anniversary of its minus 0.75% deposit rate, the lowest in the world, Jordan's remarks at Thursday's monetary policy press conference were dominated by subzero rates. Pushing back against critics, he said ending it would spark the worst of scenarios -- a "marked and rapid" currency appreciation, along with deflation and weaker economic growth.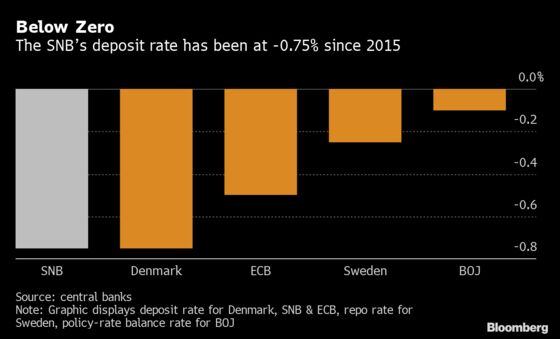 Jordan has long been unwavering in this view, but his latest comments follow increasingly vocal opposition from the financial sector to what is effectively a charge on deposits. In the neighboring euro zone, some officials give the impression of losing faith in the measure, while Sweden's central bank is poised to end its experiment with the policy.
Lenders in Switzerland and elsewhere say margins are under pressure. The Swiss Bankers Association has argued negative rates are no longer necessary, and a survey by UBS Group AG found that even export-oriented firms believed the policy was doing more harm than good.
Jordan spoke after the SNB left interest rates unchanged and reiterated its threat to intervene in currency markets if needed. He acknowledged the "challenges" of its subzero policy, but offered no sign he's about to change tack anytime soon.
"We monitor the impact of negative interest precisely, and we take the side effects seriously. However, we remain convinced that the benefits it brings Switzerland as a whole clearly outweigh the costs. The negative interest rate and the willingness to intervene are currently the best instruments."
The SNB's latest forecasts bear out his concerns. Similar to their peers, Swiss policy makers have struggled to stoke price pressures, though their situation is complicated by the currency. They've long described the franc as "highly valued," a key phrase they repeated on Thursday.
In the latest projections, inflation is seen at just 0.1% in 2020 and only slightly faster, at 0.5%, the following year.
Economic growth is expected to pick up in 2020, though Jordan noted the "downside risks" in the global economy.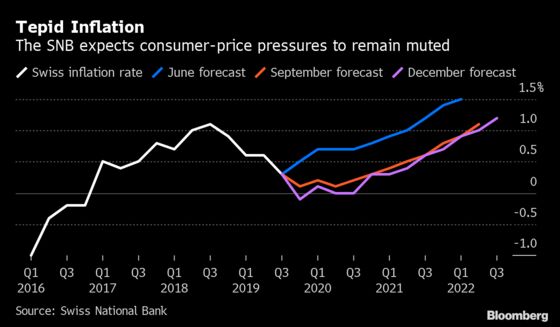 The franc has gained more than 3% against the euro this year because of increased global risks and the European Central Bank monetary easing in September. It's been relatively steady recently, though a further appreciation remains a risk.
That would be a big a headache for manufacturers, who have suffered a drop in foreign orders as a result of the trade war and the upheaval among German carmakers.
"Negative interest remains central to our monetary policy to this day," Jordan said. "If we were to dispense with it, Swiss interest rates would increase compared to those of other countries, Swiss franc investments would be markedly more attractive, and we would have to expect a marked and rapid appreciation in our currency."