SNB Isn't Panicking About the Franc And Here's a Reason Why
(Bloomberg) -- The Swiss National Bank appears to be content for now to allow the franc to drift higher, with little evidence that it's getting into a dogfight with markets.
While reluctance to aggressively sell the franc may be partly driven by fear of being labeled a currency manipulator by the U.S., SNB data also suggest the valuation may not be so extreme as it appears.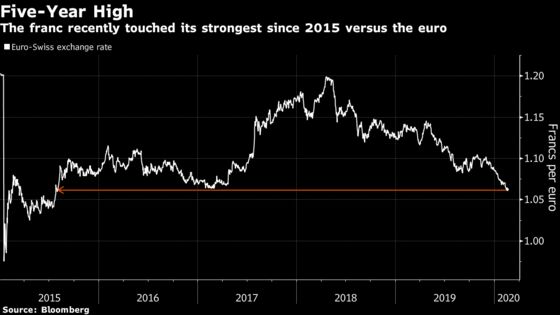 The franc's advance, fueled by investor anxiety about the coronavirus outbreak, has put it at the strongest level in almost five years versus the euro.
But a monthly measure that incorporates inflation -- the real effective euro exchange rate -- put it well below its 2015 levels in January. A broader index, which includes currencies like the dollar, had the franc only at a four-month high.
"The SNB could be forgiven for wanting to be seen as giving a bit of ground so as not to provoke a rebuke" from President Donald Trump, said David Oxley at Capital Economics in London. "That said, we suspect that it's more likely reflects the SNB taking a more holistic view on the exchange rate."
The franc was little changed at 1.06130 per euro at 10:32 a.m. Zurich time on Friday.
Since the euro area is Switzerland's top trading partner, the common currency plays an outsize role in the SNB's policy calculus. Still, President Thomas Jordan and his colleagues say they take "the overall currency situation into consideration."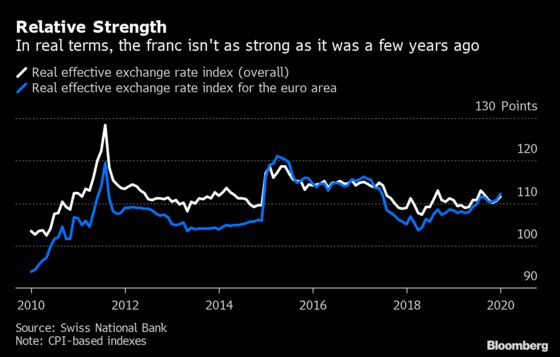 For the past five years, they've been using negative interest rates and a pledge to intervene in currency markets to stem the franc's advance. Data on the cash commercial banks hold at the SNB indicate there haven't been large-scale interventions of late.
Policy makers also haven't ramped up their rhetoric recently, suggesting no increased concern or they don't feel a need to try to scare markets into backing off. Even through the latest appreciation, the key line has remained unchanged: the franc is "highly valued."