SNB Foreign Currency Interventions Drop to Lowest in Pandemic
The Swiss National Bank's foreign exchange transactions totaled just 296 million francs ($321 million) in the first quarter, the smallest sum since the onset of the pandemic.
Currency intervention is designed to temper appreciation pressure on the franc and is a key pillar of the SNB's monetary policy to keep prices stable, which also uses negative interest rates.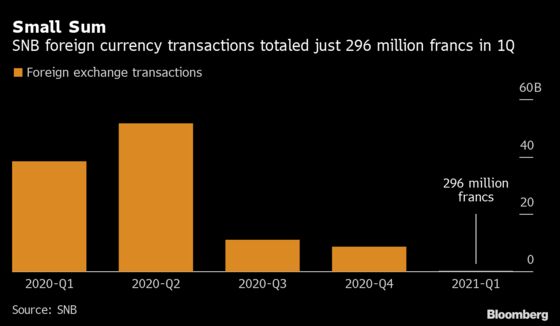 The central bank made massive market forays during the early months of the pandemic to combat the flow of funds into the franc, which investors tend to see as a haven currency. It reduced the intensity of its interventions as financial stress eased.
Governing Board member Andrea Maechler this week affirmed the need for the SNB's exceptionally loose monetary policy stance, saying the franc is still highly valued. She also said the SNB hasn't started to shrink its balance sheet.