SNB Resisted Major Interventions as Franc Strengthened
The Swiss National Bank appears to have resisted taking dramatic action in the past week to curb the franc's appreciation to the strongest in almost three years.
Sight deposits at the SNB, considered an early indicator of activity, increased about 1.3 billion francs ($1.3 billion) to 585.9 billion francs in the week ending Jan. 17. That's a gain of 0.2%, and analysts said it suggests no intervention.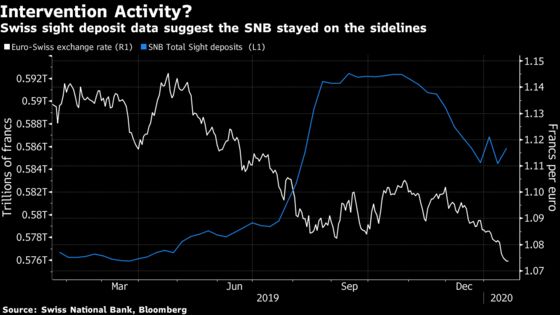 The figures come as the franc pushes higher against the euro, something the Swiss central bank has been battling against for a decade. The currency rallied 0.7% last week after the U.S. Treasury added Switzerland back onto its currency watch list.
Yet the sight deposit data suggest the SNB didn't do much to counter the rally, with Credit Suisse economist Maxime Botteron considering the figures in line with seasonal fluctuations. A spokeswoman for the SNB declined to comment on the data.
The SNB has used interventions on-and-off for years, and the franc's recent appreciation had raised speculation it might have done so again recently. To help control the currency, which investors typically buy at times of market stress, the SNB also has a deposit rate at a record low of -0.75%.
Just days after the U.S. decision to monitor Switzerland, Alternate SNB Governing Board Member Martin Schlegel stressed that if policy needs to be eased, there's room to expand the balance sheet.
Swiss central bank officials don't usually comment on intervention and they they publish statistics once a year.
According to St. Galler Kantonalbank Chief Investment Officer Thomas Stucki, the SNB will continue to selectively intervene. An average franc appreciation of 1.5%-2% annually is manageable for the country, he said.
"Our base case is that the pace of franc strength wears off -- but in the event of a deteriorating euro-zone outlook the franc appreciation drift could resume," said Christin Tuxen, Danske Bank's head of currency research.