SNB Tones Down Intervention Language as Franc Pressure Eases
(Bloomberg) -- The Swiss National Bank softened its language on the need to intervene in currency markets to protect the economy, while insisting the franc is still "highly valued."
Officials led by President Thomas Jordan pledged to continue foreign-exchange interventions, but reverted to their standard line of "as necessary" instead of their commitment introduced last year to do so "more strongly." They also kept both the policy rate and deposit rate at -0.75%, as predicted by economists.
The currency's drop to a 20-month low against the euro in recent weeks has given officials some respite, now reflected in their toned-down language. The franc stood little changed at 1.10549 per euro at 11:14 am in Zurich on Thursday.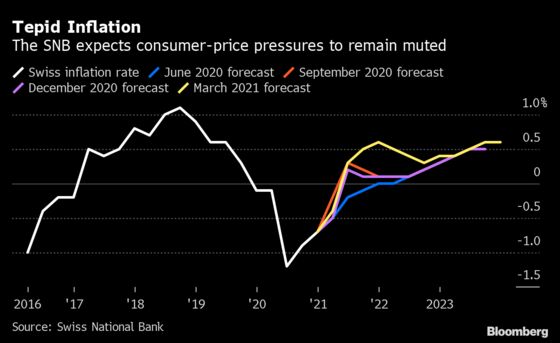 The central bank spent 110 billion francs ($117 billion) last year on interventions, the most since 2012, as the pandemic roiled markets. That didn't escape the notice of the U.S. Treasury, which labeled Switzerland a manipulator in December.
The SNB has denied that charge, saying the small size of the domestic bond market makes interventions the most effective tool for curbing the currency's strength and staving off deflation.
Central bank data also suggest the pace of interventions has dropped since the start of the year, as the franc depreciated against the dollar and the euro.
The SNB used a "less forceful expression for its intention to intervene in the FX-market," said Karsten Junius, chief economist at Bank J. Safra Sarasin Ltd. "This indicates that so far it is OK with the latest weakening of the franc."
The central bank reiterated its economic growth forecast released in December for an expansion of 2.5%-3% this year. It raised its outlook for inflation in 2021 and 2022 due to the weaker franc and a higher oil price. Beyond that horizon the projection is "virtually unchanged," officials said.
"We have to continue with our expansionary monetary policy," Jordan said. "The economic environment has to change considerably before we can think about changing monetary policy."