Smiling G-7 Leaders Gather for 'Wedding' Diplomacy by the Sea
(Bloomberg) -- As Group of Seven leaders and their partners met on a drizzly English beach for their traditional "family photo," they were reminded of another kind of formal -- and potentially awkward -- gathering of friends and relations.
"I feel like we are at a wedding," Jill Biden, the wife of U.S. president Joe Biden, joked as leaders greeted each other with elbow bumps and quips. U.K. Prime Minister Boris Johnson -- who married his third wife Carrie two weeks ago -- agreed, saying the leaders' procession resembled "walking down the aisle."
The photo marked the official start of the group's first in-person summit since the start of the pandemic. It's also the first G-7 after Donald Trump's turbulent four years in office, where he bickered with long-term allies, pulled the U.S out of the Paris climate accord and Iran nuclear deal, and most famously ripped up the communique at the end of the 2018 meeting in Canada despite having earlier agreed to it. So this gathering provides a chance for a reset, and for Biden to show that he means it when he says the U.S. is committed to working with other G-7 nations.
Over the next three days they will discuss boosting the global economic recovery from the coronavirus, strengthening democracies and taking firmer action to tackle climate change.
There is plenty of room for tension among the family of allies, with Johnson in an escalating dispute with European leaders over post-Brexit trade rules. As host, he will be working to keep the atmosphere friendly with lighter moments planned, including a barbecue on the beach and entertainment from a group of sea shanty singers.
It's also the first G-7 for a crop of new leaders, including Biden. Standing in the back row for their first family photo were Japan's Yoshihide Suga and Italy's Mario Draghi. Still, Suga has attended many a G-7 when he was a top aide to previous prime minister Shinzo Abe, while Draghi is a veteran of plenty of high-stake meetings from his time as president of the European Central Bank.
Rounding out the picture were French President Emmanuel Macron, German Chancellor Angela Merkel, Canadian Prime Minister Justin Trudeau, plus European Council chief Charles Michel and Ursula von der Leyen, head of the European Commission.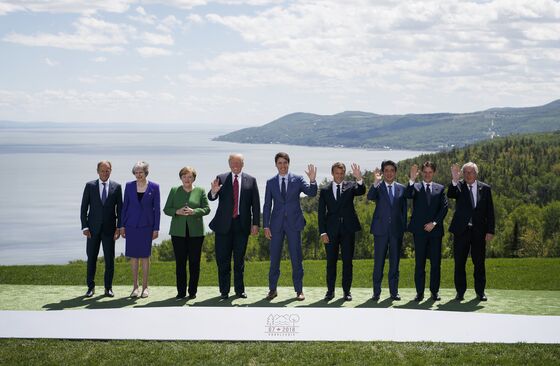 Before any of the talking -- or eating and drinking -- had begun, the leaders' wildly differing personal characters were already on full display.
With the photo shoot over, Merkel urged Johnson to take the others back to the summit center, telling him "you are the leader." This is the last G-7 for Merkel after 16 years as chancellor of Europe's biggest economy and key strategic power, because she is stepping down after an election in September.
But in a scene that would not have looked amiss after drinks at a wedding, Macron and Biden -- meeting for the first time -- threw their arms around each other and strolled along the beach boardwalk talking animatedly, apparently oblivious of others around them. They were making such slow progress that other leaders including Trudeau and Draghi were forced to trail behind while they continued their private chat. Eventually they stopped walking altogether, so Trudeau opted to circle around them and up the stairs off the beach.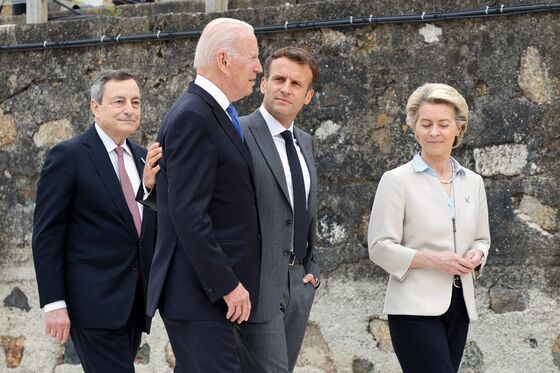 Biden urged reporters and photographers who were there to watch it all to go swimming instead, quipping "everyone in the water."
When he was asked what his message would be to Russian leader Vladimir Putin, when they meet for a summit in Geneva next week, Biden replied: "I'll tell you after I have delivered it."