Smart-Money Club Has Kicked Out the Optimists
(Bloomberg Opinion) -- When it comes to the stock market, there is no (legal) secret sauce that can definitively determine the direction of equities. In the end, investors basically just want to know what the best and brightest are doing with their money so they can mimic those strategies. Right now, the so-called smart money is saying run and hide. 
 
That can be seen in the Smart Money Flow Index, which measures action in the Dow Jones Industrial Average during the first half-hour of trading and the last hour. The thinking is that the first 30 minutes represent emotional buying, driven by greed and fear of the crowd based on good and bad news as well as a lot of buying on market orders and short covering. The "smart money," though, waits until the end of trading to place big bets when there is less "noise." The problem for the bulls and those who say a strong economy and corporate earnings will soon propel the market higher again is that the SMFI has fallen off a cliff, tumbling 24.3 percent since this year's peak on Jan. 26 to the lowest since 2011. The Dow, by comparison, has dropped only 9.18 percent. Such a divergence implies that the smart money has little faith in stocks' prospects, according to Bloomberg News's David Wilson. Tuesday's abbreviated session was a perfect example of the smart money in action, with the Dow rising 0.57 percent in early trading before ending 0.64 percent lower.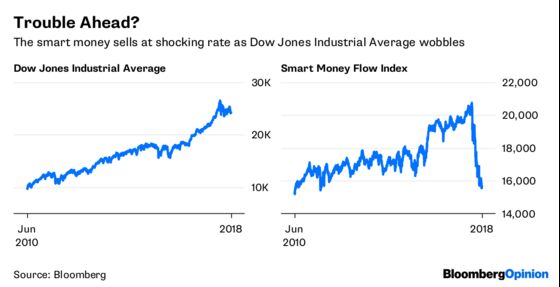 To be sure, calling for an end to the bull market, as so many have done in recent years, has proved to be a fool's errand, most recently in 2017 when the consensus seemed to be that President Donald Trump's unpredictability would cause markets to tank. That didn't happen, and the Dow went on to gain 25.1 percent in its best year since 2013. But then again, the Smart Money Flow Index was rising throughout 2017.
CHINA CLUES
Those focused on the yuan for clues as to whether China is allowing the currency to weaken as a way to retaliate against U.S. tariffs may be looking at the wrong market. Perhaps the focus should be on China's corporate bond market, where Bloomberg News reports that defaults are on pace to set a record with the 2018 total already more than 75 percent of the previous high. Chinese companies have reneged on about 16.5 billion yuan ($2.5 billion) of public bond payments this year, compared with the high of 20.7 billion yuan in all of 2016, according to data compiled by Bloomberg. Downgrades by credit-rating firms outnumber upgrades by an unprecedented margin. How does this play into a trade war? China needs to convey a sense of financial stability, and weakening the yuan could spark a flight of capital from the country. That, in turn, could exacerbate the corporate debt problem and expose China's highly leveraged economy. People's Bank of China Governor Yi Gang said Tuesday that China would "keep the yuan exchange rate basically stable at reasonable and balanced level," a repetition of standard language that helped stoke speculation policy makers are prepared to take action to arrest the plunge in the currency, Bloomberg News reports.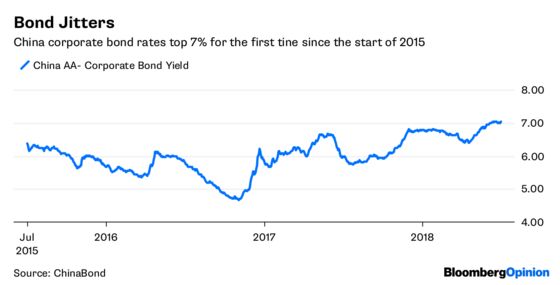 BOND TRADERS PLAY DOWN INFLATION
In the debate over whether higher oil prices are inflationary or a drag on the economy, bond traders are falling in the latter camp. Despite the price of a barrel of West Texas Intermediate crude jumping to $75 from $65 two weeks ago, breakeven rates on five-year Treasuries, or what traders expect the rate of inflation to be over the life of the securities, have been little changed at 2.08 percent. That's down from the high this year of 2.17 percent in mid-May. Despite the strong economy and lowest unemployment rate since 2000, wage gains are anemic. On Friday, the government is forecast to say that wages grew 2.8 percent in June from a year earlier, in line with the average of 2.6 percent over the last two years. Absent stronger wages, many economists say it will be hard for inflation to accelerate. Federal Reserve Chairman Jerome Powell has acknowledged that inflation expectations are subdued and, if anything "have edged lower in recent years," he said. "We haven't really seen inflation expectations get up to 2 percent yet," he said last month at a forum in Portugal.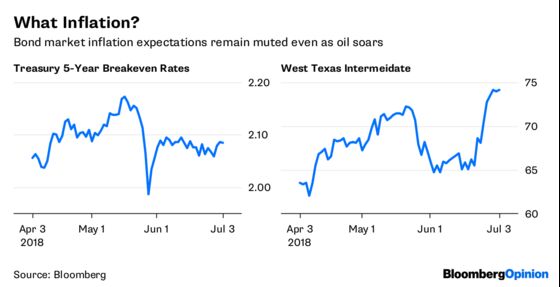 CURRENCY TRADERS ARE OPTIMISTIC 
It's amazing what a phone call can do. On Monday, foreign-exchange traders pushed the Mexico peso lower after the victory by leftist candidate Andres Manuel Lopez Obrador in the nation's presidential election. Part of the concern was that AMLO, as he is known, would take an adversarial approach toward Trump's trade policies after publishing a book last year that was critical of his U.S. counterpart. But on Tuesday, traders pushed the peso up by about 2 percent, making it the world's best-performing currency, on optimism that AMLO may seek a congenial relationship with Trump, according to Bloomberg News's Justin Villamil and George Lei. Traders were encouraged by news of a conversation between AMLO and Trump on Monday in which they discussed border security, the North American Free Trade Agreement and a potential bilateral trade deal. The new president's pick for foreign minister, Hector Vasconcelos, told Televisa that another meeting may happen.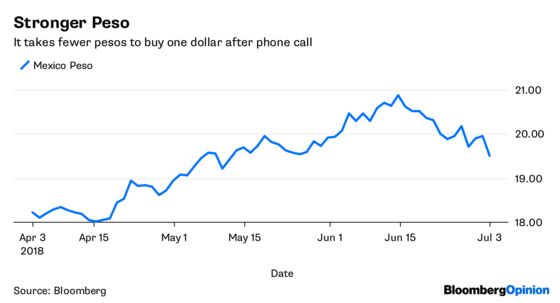 GOLD BUGS LIVE
Gold has had a tough couple of months, with prices plunging from about $1,370 an ounce in April to less than $1,240 on Tuesday. The reasons given include a rising U.S. currency, which makes gold more expensive to foreign investors because it's traded in dollars, and a hawkish Fed. After all, gold pays no interest, so its appeal diminishes when interest rates are rising. But gold does have intrinsic value and some big-name firms are saying the precious metal is looking cheap. Fund managers at Franklin Templeton Investments and BlackRock Inc. say unsettling geopolitical events and elevated stock markets are reasons to own the metal, even as traders head into the second half with a bearish outlook, according to Bloomberg News's Susanne Barton. A pickup in inflation and jewelry demand are other reasons. "It's not all gloom and doom in terms of reasons to have exposure to gold," Stephen Land, lead manager of the $886 million Franklin Gold and Precious Metals Fund, told Barton. "Jewelry demand, which benefits from strong stock markets and global growth, is the largest component of annual gold demand, and could be a positive catalyst for gold prices looking forward this year."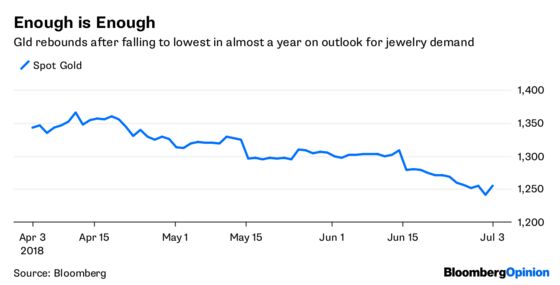 TEA LEAVES
What were they thinking? Fed policy makers, that is, when they decided on June 13 to raise the target for the federal funds rate a second time this year to a range of 1.75 percent to 2 percent and signaled that a total of four hikes this year was on the table. The world will get some insights Thursday when the Fed releases the minutes from its June 12-13 meeting. Recall that going into that meeting, market sentiment was leaning toward a dovish hike, meaning that the Fed would raise rates but acknowledge some headwinds such as turmoil in emerging markets. What they got was the opposite, as policy makers said they still expected the economy to evolve in way that warrants "further gradual" rate increases. Since then, the sell-off in emerging markets has deepened and tensions over trade between the U.S. and China —  as well as with America's allies —  have become worse.