China Equity Traders Still Wary After Year of False Rebounds
(Bloomberg) -- It'll take more than dirt-cheap valuations and a spell of supportive policies to cajole Chinese investors to go all in on equities.
The bounce in mainland stocks over the past week hasn't assuaged concerns. Shanghai's benchmark index is still in a bear market, trading at a paltry 10 times forward earnings. It's only a bad day or two away from a post-crash low hit in 2016, and turnover is near the lowest in four years. Onshore traders were more hesitant Tuesday, with stocks closing lower despite another bullish day across Asia, including Hong Kong.
"We could get more downside," said Adrian Zuercher, Asia Pacific chief investment officer at UBS Group AG's wealth unit in Hong Kong. "The question we keep getting is whether this is a value trap. Even if you see opportunities, it's not very attractive to switch back into equities at this stage if the volatility remains very high."
While China has scaled back its deleveraging drive to help counter a worse-than-expected economic slowdown, it could quickly reverse course once data improve, said Zuercher, who helps oversee $394 billion at the world's largest wealth manager. The sense of caution has been amplified by risks to growth beyond China's direct control, like the dispute with the U.S. on trade, he said.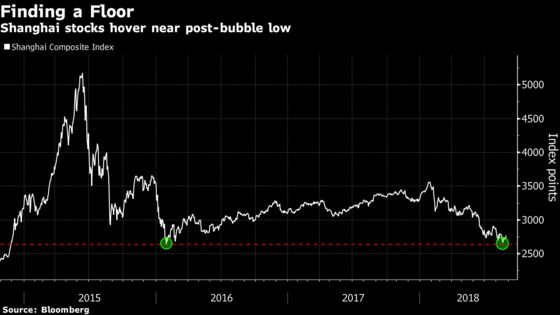 Lessons from earlier this year suggest policy-driven rallies don't tend to last. In April, the Shanghai Composite Index soared the most in two months after authorities mentioned the need to boost domestic demand for the first time since 2015. It erased most of that gain in the following two days. A boost from the central bank's reserve-ratio cut in June was so short-lived it didn't even hold through the close.
Zuercher recommends an underweight allocation to mainland-listed shares relative to the offshore market, where the rally in stocks was stronger Monday after China's central bank signaled it's taking action to support the yuan. He said large caps listed onshore are vulnerable after last week's advance -- the biggest for the FTSE China A50 Index in 15 months -- as banks and state-owned giants will suffer from a return to tighter policy.
The level of 2,655 points is worth watching for the Shanghai Composite as it evokes the bearish sentiment of early 2016, when the world was panicking over a hard landing in China and authorities were still managing the aftermath of the stock bubble bursting, as well as a chaotic yuan devaluation. China's 14 million traders tend to follow historic milestones, and the significance of this one is such that the national team, as state funds are called, bought stocks when the benchmark dipped below the 2016 low on Aug. 20.
While the index bottomed at that level in 2016, market-watchers aren't drawing the line this time. Yes the yuan is stabilizing: it finally strengthened last week after a record 10-week descent against the dollar. But the other drivers behind a $2.5 trillion equity rout since January -- concerns over tighter liquidity and financing, weaker economic data, more U.S. tariffs on Chinese goods -- are far from being resolved.
Some investors are heeding calls to buy the dip. Those based overseas, who were relatively shielded from this year's losses, will own a slightly bigger slice of the market after Friday when MSCI Inc. adds more A shares to its global benchmarks. Northbound buying has been strong in August and a fund tracking Chinese large caps drew a whole lot of interest from traders in the U.S.
But China's individual investors, who drive more than 80 percent of turnover on mainland exchanges, aren't exactly piling in. Volume was low again Monday, after only about 253 billion yuan ($37 billion) changed hands daily last week on average, the least since 2014. The downbeat mood has made a top-performing fund put half its assets in cash, and Morgan Stanley strategists -- who've been flagging these risks all year -- said they aren't turning bullish any time soon.
"There are just too many ongoing uncertainties at the moment," said Laura Wang, an equity strategist at Morgan Stanley in Hong Kong, whose team last week cut its forecasts for China's benchmark indexes for the third time since April. "A lot of the macro readings in July were actually worse than expected. Sentiment onshore back in 2016 was very negative and it's a similar subdued story now."