Singapore Posts Slowest Annual Growth of the Decade
(Bloomberg) -- Singapore's economic growth slumped in the final months of 2019 as trade-reliant sectors struggled to gain traction despite an easing of U.S.-China tensions.
Gross domestic product rose an annualized 0.1% in the three months through December from the third quarter, according to an advance estimate released Thursday by the Ministry of Trade and Industry. The median forecast in a Bloomberg survey of economists called for 0.4% expansion.
Growth for all of 2019, at 0.7%, was the slowest in a decade. The Singapore dollar weakened throughout the day and was down 0.2% at 1.347 to the U.S. dollar as of 4:37 p.m.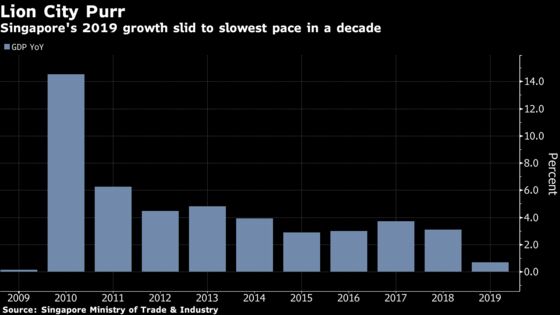 The data show that while "manufacturing momentum remains in the doldrums, nevertheless services and construction are likely to continue being the bright spots into 2020," said Selena Ling, head of research and strategy at Oversea-Chinese Banking Corp. in Singapore.
One of the most export-reliant economies in the world, Singapore's growth prospects depend greatly on the outlook for global trade and demand, which remain relatively subdued. Prime Minister Lee Hsien Loong said in a New Year's message that the economy is growing "less vigorously" than officials would like, with U.S.-China tensions likely to continue
The Monetary Authority of Singapore eased monetary policy in October for the first time since 2016, saying the economy still faced external risks even as it narrowly avoided a recession in the third quarter
What Our Economists Say

"Singapore's economy managed to gain a bit more momentum in 4Q, shrugging off threatened escalation in the U.S.-China trade war. The recent trade truce, if sustained, should at least stabilize Singapore's exports and domestic demand in 2020. Ongoing unrest in Hong Kong is also expected to benefit Singapore's economy this year."

-Tamara Mast Henderson, ASEAN economist

See the full report here
"We are cautiously optimistic that global macro stabilization anchored by the expected completion of the U.S.-China Phase One trade deal could lead to improvement in the global economic backdrop for next year, which could give Singapore's manufacturing and export sectors the necessary boost for 2020," United Overseas Bank economist Alvin Liew said in a Dec. 26 research note
"Our 2020 GDP growth forecast for the Singapore economy remains at 1-2% yoy, predicated on a modest manufacturing recovery with the services and construction sectors as providing the growth bulwark," OCBC's Ling said in a Dec. 26 note. "Since global monetary policy accommodation appears to have largely run its course for now, the onus will turn to fiscal policy stimulus to come to the rescue of tepid demand conditions"
"Although the economy ended the year on a weak footing, there are signs of stabilization in forward-looking data going into 2020," said Mitul Kotecha, senior emerging market strategist at TD Securities in Singapore. Some easing in U.S.-China trade tensions portends better prospects in 2020, he added, suggesting the Monetary Authority of Singapore might decide to hold policy when it meets in April
GDP rose 0.8% in the fourth quarter from a year earlier
Advance GDP estimates are computed largely from data in the first two months of the quarter, and often are revised once the full quarter's data are available
Manufacturing fell 7.3% in the fourth quarter compared to the third, construction grew 2.1%, and services gained 2.4%
(A previous version of this story was corrected to show the proper full-year growth figure.)