Singapore Central Bank Keeps Policy Settings as Growth Slows
(Bloomberg) -- Go inside the global economy with Stephanie Flanders in her new podcast, Stephanomics. Subscribe via Pocket Cast or iTunes.
Singapore's central bank kept its monetary policy settings unchanged on Friday, striking a dovish tone as it sees the economy growing below potential.
After tightening policy twice last year, the Monetary Authority of Singapore -- which uses the exchange rate as its main policy tool -- left the slope and width of the currency band unchanged, as well as the level at which it is centered. The stance is "consistent with a modest and gradual appreciation path" of the currency band, it said in a statement on its website.
Twenty of the 22 economists surveyed by Bloomberg predicted the move, with just two predicting a tightening.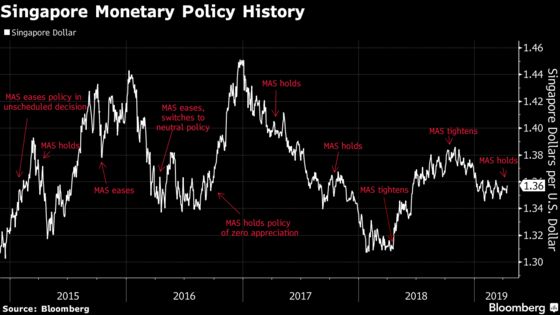 Monetary Authority of Singapore's Past Policy Changes: Table
"Growth in the Singapore economy has eased, bringing the level of output closer to its underlying potential," the MAS said. "Despite some pickup in labor costs, inflationary pressures are mild and should remain contained."
The Singapore dollar weakened after the decision, dropping as much as 0.1 percent to S$1.3580 against the U.S. currency. It was unchanged at S$1.3562 as of 9:56 a.m. on Friday.
"The growth and inflation rhetoric has come off quite a fair bit," said Selena Ling, an economist at Oversea-Chinese Banking Corp. in Singapore. After last year's tightening "they're in pause mode" now, she said.
Central banks globally have taken an abrupt turn toward more dovish policy in 2019, led by a change in tone from the U.S. Federal Reserve. World growth forecasts have been repeatedly downgraded, including by the International Monetary Fund this week, as U.S.-China trade tensions remain heightened and as Chinese demand ebbs.
The government is projecting growth in the export-reliant economy will slow to just below the midpoint of the 1.5 to 3.5 percent range after a 3.2 percent pace in 2018. A separate report Friday showed gross domestic product grew 1.3 percent in the first quarter from a year ago, lower than economists had projected.
The MAS sees growth at "slightly below potential this year, following two years when it was above trend." That implies a softer inflation picture as well, allowing policy makers to stay on hold.
Highlights from GDP Report
First-quarter GDP rose 1.3% from year ago; est. 1.4%
GDP rose annualized 2% from prior quarter; est. 2.2%
Manufacturing shrunk 1.9% year-on-year in first quarter; construction expanded 1.4% after contracting in the prior 10 quarters
Government kept 2019 forecast for Singapore economy to expand "slightly below the midpoint" of 1.5-3.5% range
Even so, Singapore officials see domestic and regional growth remaining resilient despite mounting global risks. Finance Minister Heng Swee Keat told Bloomberg last week that Southeast Asia economies "continue to grow quite well even this year and next."
The central bank lowered its core inflation forecast range for this year to 1 percent to 2 percent from 1.5 percent to 2.5 percent previously, mainly because of a drop in electricity costs. In February, the central bank lowered its headline inflation projection to 0.5 percent to 1.5 percent.
What Bloomberg's Economists Say

The Monetary Authority of Singapore paused its tightening cycle Friday, acknowledging weaker-than-expected global growth and the significant uncertainty that hangs over the short-term outlook. Assuming the central bank's latest forecasts hold up against the remaining downside risks, we think the MAS will also keep its policy settings unchanged at its next meeting in October.
-- Tamara Henderson, Asean economist
Click here to read the report
The MAS guides the local dollar against a basket of its counterparts and adjusts the pace of its appreciation or depreciation by changing the slope, width and center of a currency band. It doesn't disclose details of the basket, or the band or the pace of appreciation or depreciation.
The MAS's dovish tone suggests it may extend its pause to October's policy decision, according to Mitul Kotecha, an emerging-markets strategist at TD Securities in Singapore.
"Given the inflation downgrade and downside risks to inflation, we think the MAS will find it difficult to tighten further at the next meeting" in October, he said. There are "downside risks to the currency going forward."