Yuan Rally Seen Ebbing as Economy Woes Cloud Trade Progress
(Bloomberg) -- The rally in the yuan is nearing an end as focus shifts to the health of the economy from trade negotiations, according to NatWest Markets Plc.
The currency has climbed 2.7 percent this year, making it the best performer in Asia, amid signs of progress in talks between China and the U.S. The yuan advanced 0.13 percent to 6.6993 per dollar as of 6:27 p.m. in Shanghai, after the two countries were said to be close to a trade deal that could lift most or all U.S. tariffs.
"The market will pay less attention to bilateral trade developments, and will instead re-focus on China data," said Maximillian Lin, emerging-markets Asia strategist at NatWest Markets in Singapore, who spoke before the latest reported trade development. The yuan will weaken to 6.8 per dollar by year-end after a modest gain in the coming month, as growth slows and the current-account surplus shrinks, he added.
A Chinese manufacturing gauge showed activity contracting in February, suggesting authorities may need to further loosen monetary policy, which could pressure the currency. The nation's economic growth will slow to 6.2 percent in the fourth quarter, while the People's Bank of China will cut lenders' reserve requirements by another 150 basis points this year, according to a Bloomberg survey.
China's current account surplus is expected to shrink, as mainland residents consume more services offered by overseas providers and the nation is likely to import more goods from the U.S. due to a potential trade deal, according to Tommy Xie, an economist at Oversea Chinese Banking Corp. in Singapore. Worsening export data will also pressure the yuan, said Lu Ting, chief China economist at Nomura Holdings Inc.
China's annual National People's Congress kicks off on Tuesday, with investors watching closely for policy clues, such as this year's goals for economic expansion, the fiscal balance, inflation and credit growth.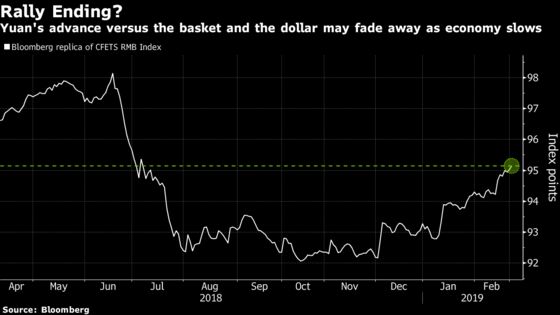 Chinese officials made clear in a series of negotiations with the U.S. in recent weeks that removing levies on $200 billion of Chinese goods quickly was necessary to finalize any deal, said two people familiar with the discussions.
"Once a trade deal is confirmed there could be sell on fact at around 6.6 per dollar, and this round of one-way yuan rise should slow," said Stephen Chiu, a foreign-exchange and rates strategist at China Construction Bank Asia Corp. in Hong Kong. The currency will end the year at 6.7, he added.
A Bloomberg replica of the CFETS RMB Index, which tracks the yuan against 24 peers, has risen 2 percent so far this year to 95.13. That's close to the highest level since July.