Signs Mount That Switzerland's Economic Boom May Be Short-Lived
(Bloomberg) -- The Swiss economy's sweet spot might not last much longer.
Credit Suisse's gauge of economic expectations sank to a three-year low on Wednesday, adding to signs of concern from companies. The trend fits a pattern seen in the neighboring euro area -- the top destination for Swiss exports -- where trade tensions and market volatility are eating into confidence.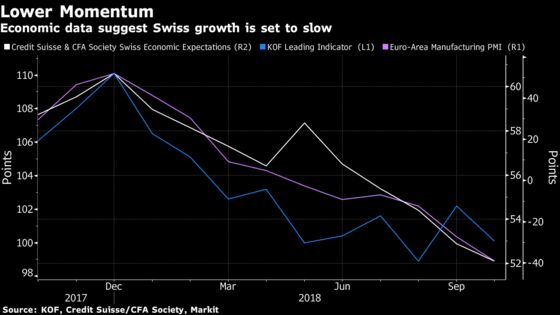 After years of pressure from a highly valued franc and weak foreign demand, Switzerland is on course for its best growth in years in 2018. Yet the International Monetary Fund predicts the expansion will slow from 3 percent this year to just 1.8 percent in 2019.
Switzerland's KOF Economic Barometer, published Tuesday, recorded declines in banking, insurance and construction, and the fall for manufacturing was "particularly striking."
EMS Chemie Holding AG, whose products include high-performance polymers for the automobile industry, said after its third-quarter earnings that "political conflicts and new trade restrictions" are causing an economic slowdown, the car industry is grappling with new emissions regulations.
Car-parts maker Autoneum Holding AG cut its profitability guidance, citing trouble in North America and higher materials costs. Bucher Industries, which makes agricultural machinery, hydraulics systems and vehicles for clearing snow from roads and collecting garbage, noted "slowing growth momentum."
The Swiss concerns feed into worries that much of the global economy may be starting to cool. Euro-zone quarterly growth of 0.2 percent reported Tuesday was half the pace predicted by economists. Momentum in China's manufacturing sector is the weakest in more than two years, prompting the country's leadership to signaled that further stimulus measures are being planned.
While the U.S. economy is still booming, it's expected to moderate next year as the effect of the Trump administration's tax cuts wane, and tariffs and a strong dollar bite.
In the Credit Suisse survey, 40 percent of respondents see the economic prospects for the euro area and China deteriorating, while for the U.S. the rate was 60 percent. A quarter considered the trade dispute likely to intensify.