Assassination Plot Claimed by Sri Lanka President in Ousting PM
(Bloomberg) -- Sri Lankan President Maithripala Sirisena said he abruptly fired the island nation's prime minister in part because he failed to properly investigate an assassination plot against him.
In an address to the nation on Sunday night, Sirisena said the plot was the "most proximate and powerful reason" for replacing Ranil Wickremesinghe as prime minister with former strongman Mahinda Rajapaksa. The president said an unnamed cabinet minister was involved in the plot, and officials in the administration were seeking to pressure the investigation.
"Under these political problems, economic troubles and the strong plot to assassinate me, the only alternative open to me was to invite former President Mahinda Rajapaksa and appoint him as prime minister to form a new government," Sirisena said.
The move ushers in a new period of political uncertainty in Sri Lanka, which saw economic growth last year hit the slowest pace since 2001. On Monday, Sri Lanka's 6.75% 2028 dollar bonds slumped to a record low of 87.4 cents on the dollar, the biggest decline since the bonds were sold in April, according to Bloomberg-compiled prices.
The appointment of Rajapaksa is good news for China, which enjoyed close ties with Sri Lanka during his 10-year rule ending in 2015 that saw the nation rack up large debts to fund infrastructure projects. Wickremesinghe had attempted to re-balance Sri Lanka's foreign relations away from China and toward India and Japan.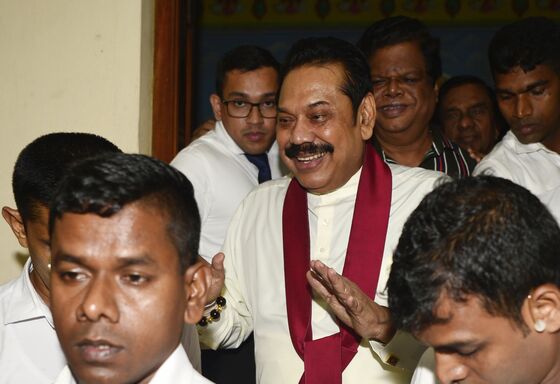 India's foreign ministry said on Sunday it was closely watching recent political developments in Sri Lanka, echoing the U.S. and European Union. The U.S. State Department called on all parties to respect the constitution, avoid violence and follow due process and urged Sirisena to "immediately reconvene parliament."
"China is once again emerging as Colombo's last hope," said Shailesh Kumar, Asia director at political risk firm Eurasia Group, who predicts Rajapaksa will re-open the door to Chinese funding. "This transition will ensure that China can once again prevail over Sri Lanka's economy as they have a friend in the prime minister's office -- in contrast to Wickremesinghe."
On Saturday, Sirisena suspended parliament until Nov. 16 as both sides lobbied lawmakers for support. Wickremesinghe said at a press conference on Saturday that he still commanded the majority backing in parliament and called for a special session of the legislature to prove it. He's likely to challenge his removal as unconstitutional in the courts.
"Life is a fight," Wickremesinghe told reporters, adding that all sides shouldn't worsen the situation for ordinary people.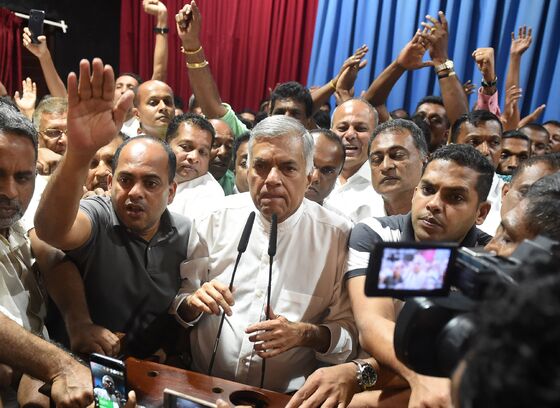 In his speech, Sirisena said differences with Wickremesinghe over policy, culture, personality and conduct "aggravated this political and economic crisis." He called on all 225 members of Sri Lanka's parliament to join the new government.
With Friday's defection, Rajapaksa and Sirisena have the backing of about 95 parliamentarians, short of the 113 need for a simple majority to show that the prime ministerial candidate has the confidence of parliament. Wickremesinghe has the backing has 106 lawmakers. The Tamil National Alliance with 16 seats has yet to comment on who it will back, while another party with six seats condemned the move to appoint Rajapaksa.
As the political jockeying continued, former petroleum minister Arjuna Ranatunga's security guard was arrested after he fired shots at a crowd of Rajapaksa supporters at the headquarters of state-run Ceylon Petroleum Corp., local media reported. One person died and two others were wounded.
Rajapaksa remains enormously popular in Sri Lanka, despite his controversial past. He led a final assault on minority Tamil separatist sending the country's brutal 26-year civil war in 2009 that was criticized by human-rights groups and foreign governments.
He also took numerous loans from China to fund large infrastructure projects, including the construction of a port in southern Hambantota -- his own political constituency -- that lost money and was eventually sold to a state-owned Chinese firm in a debt-to-equity swap on a 99-year lease. Roughly 80 percent of Sri Lanka's total government revenues go toward paying debt.
Although it was Rajapaksa-era loans that sank Sri Lanka into debt, the decision to hand the port back to China was made by Wickremesinghe -- and was roundly criticized. In a sign of how fraught relations were among Sri Lanka's two top leaders, Wickremesinghe was forced to defend himself against a no-confidence vote that was backed in part by Sirisena's party. He defeated the motion.
There was a general sense that Wickremesinghe wasn't steering the economy properly, and his replacement by Rajapaksa is likely to prove popular with the general public, said Sanjeewa Fernando, a strategist at CT CLSA Securities in Colombo. The federal budget may also be delayed as a result of this move, he added.
"There was this notion that nothing is being executed properly," Fernando said. "It has to do with sentiment. There is a general excitement for change."