Seven U.K. Labour MPs Quit Party in Brexit Split With Corbyn
(Bloomberg) -- Seven Labour politicians quit the U.K.'s main opposition party as Brexit cracked open the structures that have defined British politics for decades, just six weeks before the U.K. is due to leave the European Union.
At a snap press conference in London, the members of Parliament stood up to explain why they had resigned in protest at Jeremy Corbyn's leadership of the party. Just five minutes earlier, they'd pressed the button in unison on their resignation emails. Luciana Berger, Chris Leslie, Angela Smith, Gavin Shuker, Mike Gapes, Ann Coffey and Chuka Umunna will now sit in an "Independent Group" they want to become a new force in U.K. politics.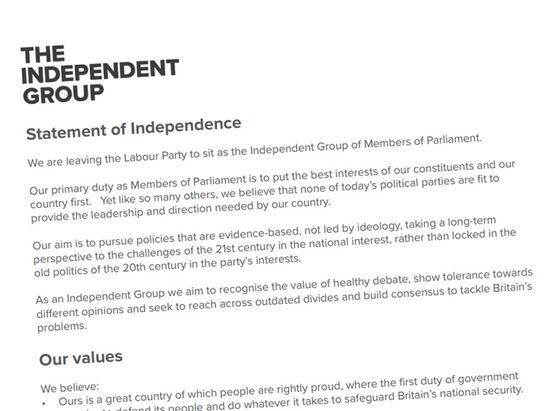 "The Labour party we joined and campaigned for and believed in is no longer today's Labour Party" Leslie told reporters. "We did everything we could to save it, but it has now been hijacked by the machine politics of the hard left." Various members of the group said party rows over anti-Semitism, foreign policy and a takeover by the hard left fed into their decision to leave.
Though the full implications remain unclear and will be for some time, the split has the potential to complicate Prime Minister Theresa May's task of getting her deal with Brussels through Parliament. Many in the group said Corbyn's failure to take a decisive stand against May's policy and call for a second referendum proved to be the "tipping point." If more Labour MPs join, pro-EU Tories could be tempted to follow if they feel there's potential to create a legitimate power in the center of British politics.
As for Labour, the risk is that the party splinters fully, handing a significant electoral advantage to May's Conservatives. Monday's development is likely to force Corbyn off the fence on Brexit, with early signs his allies will double down and refuse to back a second referendum on leaving the European Union.
The reaction from Corbyn supporters was swift. Labour's finance spokesman, John McDonnell, told Sky News the group should do the "honorable thing" and stand in by-elections for their seats.
"History will judge them," Len McCluskey, a Corbyn ally who leads the Unite union, told BBC Radio. "All of their heartbreak about what's happening with Brexit sounds a little bit hollow," he said, adding that all of them increased their majorities in 2017 standing on a Labour manifesto to respect the Brexit referendum result.
Umunna, Labour's former chief business spokesman who was once talked about as a future party leader, said mainstream political parties have "become the problem" and urged politicians from across the political spectrum to join the new group.
"We invite you to leave your parties and help us forge a new consensus on a way forward for Britain," Umunna said. "You don't join a political party to spend years and years fighting the people within it, you get involved in politics, you join a party, to change the world."
Berger, a Jewish lawmaker who employed a bodyguard to protect her from abusive Corbyn supporters when she attended the party's annual conference in Liverpool last year, said the leadership's failure to deal with anti-Semitism had left her with no option.
"I am leaving behind a culture of bullying, bigotry and intimidation and I look forward to a future serving with colleagues who respect each other and who are committed to working together for our great country," she said.
Read More: Full statement from MPs who quit the Labour Party
Corbyn was ready for the announcement when it came. "I am disappointed that these MPs have felt unable to continue to work together for the Labour policies that inspired millions at the last election and saw us increase our vote by the largest share since 1945," the Labour leader said in a statement.
He accused the Tories of "bungling Brexit" and insisted he had set out "a unifying and credible" alternative plan. "Now more than ever is the time to bring people together to build a better future for us all," he said.