U.S. Service Industries Expand at Slowest Pace in 11 Months
(Bloomberg) -- Growth in U.S. service industries weakened to an 11-month low in July, dragged down by sharp pullbacks in orders and business activity that suggest the economy is cooling, an Institute for Supply Management survey showed Friday.
Highlights of ISM Non-Manufacturing (July)
Non-manufacturing index fell to 55.7 (est. 58.6), biggest drop since Aug. 2016, from 59.1; readings above 50 indicate expansion
Measure of business activity declined to 56.5 from an almost 13-year high of 63.9; 7.4-point slump was largest since 2008
Gauge of new orders decreased 6.2 points, the most since August 2016, to 57
The slump in the gauge of service providers -- which accounts for about 90 percent of the economy -- is a reminder that U.S. growth will be hard-pressed to sustain the second-quarter pace that was the fastest since 2014.
"There has been a 'cooling off' in growth for the non-manufacturing sector," Anthony Nieves, chairman of the ISM's business survey committee. "Tariffs and deliveries are an ongoing concern. The majority of respondents remain positive about business conditions and the economy."
The July index was weaker than all economists' estimates in the Bloomberg survey and below the 57 average for all of 2017. The non-manufacturing survey from the Tempe, Arizona-based group spans industries such as retail, utilities, health care and construction.
The results echo the cautionary tone of the ISM's factory survey, which showed its manufacturing index fell to a three- month low in July. Gauges of orders and production dropped amid broad concern about how tariffs and retaliatory actions will affect business.
Even though the pace of growth in services downshifted last month, demand is likely to keep getting support from the tight job market, low inflation and a tax-driven boost to consumer spending.
There were some encouraging spots in the latest ISM survey, including an increase in the employment gauge, which was in line with Labor Department figures earlier Friday showing companies added 170,000 workers last month. Declines in the ISM's measures of supplier deliveries and order backlogs were a sign supply constraints are easing for service providers.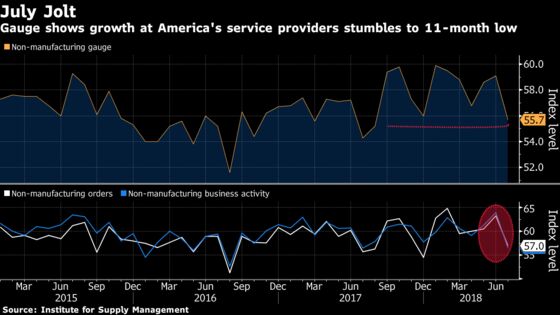 The report shows "just a little bit of cooling off" after a run of strong results, Nieves said on a conference call with reporters. "The tariff situation is not helping."
He expects the trend to move sideways for a few months before picking up again in the fall, as "the economy is strong" and there are "enough good things in place" to support demand, he said.