Seeking Resistance to China's Buying Spree? Not From Portugal
(Bloomberg) -- With the U.S. and European Union increasingly concerned about the weight of money pouring in from China, Portugal's reaction to a $11 billion deal stands out.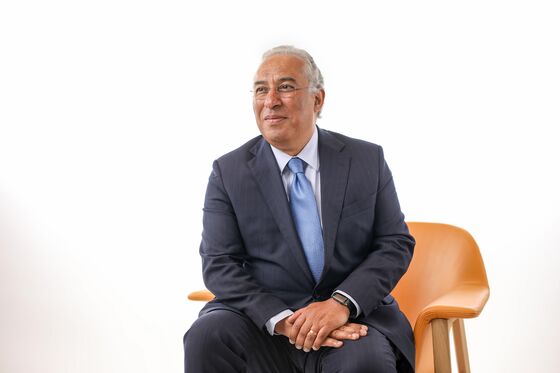 Prime Minister Antonio Costa had no objection when China's biggest renewable energy developer offered to buy out the rest of the former state-owned utility, EDP-Energias de Portugal SA.
It was the government in Beijing that stepped forward providing foreign investment for Portugal during the euro region's crisis in 2011. That has built links that policy makers in Lisbon are willing to expand even as neighbors from Italy to Bulgaria express alarm about the $318 billion China has invested in Europe in the past decade.
"To understand this position, we need to go back to the crisis years," said Antonio Barroso, deputy director of research at Teneo Intelligence in London. "The government was under pressure to sell state assets to capture additional revenue. Chinese money provided the most attractive option. This created the space for future investments."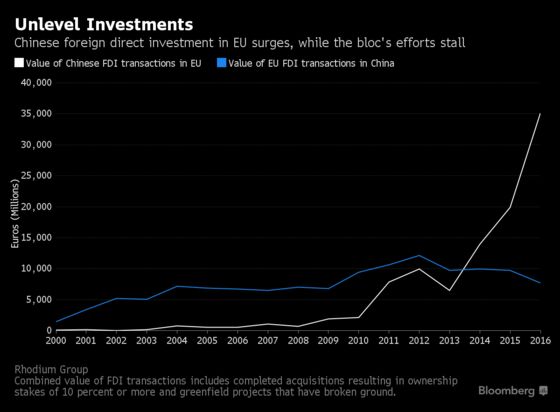 Portugal's long relationship with China dates to the period after the legendary explorer Vasco de Gama opened a sea route to the Far East. The nation developed trade routes in the 16th century from its colony in Macau, which was peacefully transferred to China in 1999.
China Three Gorges Corp. spent two decades building a hydroelectric dam across the Yangtze River before expanding abroad. It first took a stake in EDP in 2011 after Portugal requested a rescue from the International Monetary Fund and the EU, and now has 23 percent.
Its cash offer for the rest of EDP would give Three Gorges a sprawling power distribution network in Portugal and Spain as well as wind and hydro projects across Brazil and the U.S.
The deal is part of a wave of investment by Chinese companies in Western economies, both to earn a yield and to gain skills in key industries. Italy and its allies are pushing for tighter screening of China's investment and for better access for European companies that want to work in China.
For Portugal, the EDP deal would add another layer to a relationship that has been growing anyway. As part of the bailout, State Grid Corp. of China bought a stake in Portugal's power distributor, REN-Redes Energeticas Nacionais SA. Fosun Group is the biggest investor in lender Banco Comercial Portugues SA and controls insurer Fidelidade, as well as hospital operator Luz Saude.
China also is distant enough that suspicions about closer investors don't come into play. Three Gorges may be more likely to keep operating EDP independently. If a European utility bought EDP, there could be a full integration, with all the cost cutting and job losses that entails.
In Asturias, the region of northern Spain where EDP operates hydroelectric plants as well as ones fired by coal and gas, the president of the regional government said the Three Gorges bid "isn't worrying."
"If for example it was a competitor like Gas Natural, we could have our suspicions," Asturias President Javier Fernandez told Europa Press on May 14, referring to a Spanish utility. "But as the bidder is a company that is already one of the main shareholders, I think it won't interfere in EDP's capacity to act in Asturias and on employment."
While EDP in 2004 bought Spanish utility Hidroelectrica del Cantabrico, which is based in Asturias, it hasn't been keen about increasing ties with larger Spanish rival Iberdrola SA. That utility in 2014 completed the sale of its stake in EDP, having raised it to 9.5 percent in 2006 after the Portuguese company had called off a strategic alliance with Iberdrola in 2001.
To be sure, EDP led by Chief Executive Officer Antonio Mexia hasn't exactly fully embraced the Three Gorges offer. The board said on May 15 that the Chinese bid was too low, not reflecting the value of the assets. And Three Gorges must still seek regulatory approvals in many jurisdictions.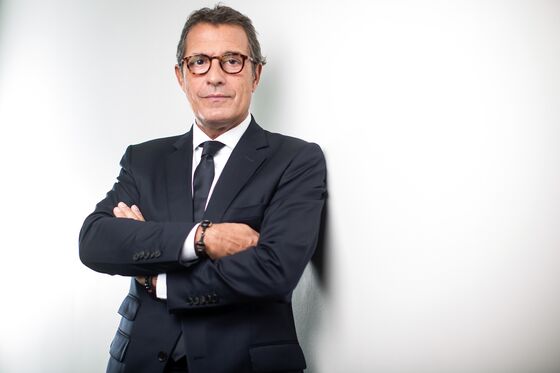 Even so, Portuguese authorities are leaving those matters to the companies to sort out. It was a Social Democrat-led government that first agreed to sell the EDP stake to Three Gorges during the crisis. Now that socialists like Costa are in control, the government remains comfortable with Chinese investment.
To read more on the Portuguese government's stance about bids for EDP, click here
Portugal's largest opposition party has said that an EDP deal doesn't involve politics since the company has been fully privatized. The bid for EDP is a "matter for the market," Social Democrat leader Rui Rio said on May 14, according to news agency Lusa.
Costa is planning to host a visit by Chinese President Xi Jinping later this year.
"We have a good experience with foreign investment, including investment from China," Costa said last month. "We are a European country but we have a long experience of globalization going back centuries."