Scorching Summers Melt Away America's Growth
(Bloomberg) -- Global warming could come with dire consequences for the U.S. economy.
June 2018 was the third-warmest on average across the contiguous forty-eight states since record keeping began in 1895, and July was also warmer than the norm. Climatologists expect that temperatures are headed up from here. That will have obvious implications for outdoor industries -- farming, for instance -- but its impact could be even broader.
A Federal Reserve Bank of Richmond analysis of the fallout leads off this week's economic research roundup. It's followed by a look at recession spillovers between the U.S. and Europe, an appraisal of the Tax Cut and Jobs Act, and a dig into the demographics of American childbearing. Check this column each Tuesday for the latest economic research from around the world.
The Impact of Higher Temperatures on Economic Growth
Published August 2018
Available on the Richmond Fed website
Researchers from the Richmond Fed think the fallout of global warming in the U.S. could be worse than expected, potentially cutting growth by up to a third by the start of the next century.
Every 1 degree increase in summer temperature cuts the gross state product growth rate by 0.154 percentage points, Riccardo Colacito and co-authors find in a study. That reduction could come as people stay indoors rather than engaging in economic activity (think home-buying), and as labor productivity takes a hit.
The finding is something of a surprise: Developing countries are usually thought to be more exposed to climate change because they're more farming-dependent. America, with its heavily indoor production, is seen as more immune.
Going forward, the authors estimate that rising temperatures would reduce GDP growth by 0.2 to 0.4 percentage points from 2070 to 2099 if emissions are low, shaving the historical average annual growth rate by about 10 percent. Under a high-emissions scenario, the reduction could be up to 1.2 percentage points, or about one-third of the historical average annual GDP growth rate. The authors say the figure should be interpreted with caution, since responses to rising temperatures could change outcomes.
U.S. recessions and euro-area growth
Published Aug. 9, 2018
Available to JPMorgan Chase & Co. subscribers
If the U.S. sneezes, will Europe catch cold? Maybe not to the same extent as in previous cycles, based on a JPMorgan analysis. Downturns in the latter are nearly always preceded by American recessions -- the one exception is the U.S. 1990 recession, when there was also a very expansionary German fiscal policy -- but they also generally come alongside European Central Bank monetary policy tightening.
That means that while the euro area has experienced, on average, a 0.7 percentage-point decline in GDP growth alongside each 1 percentage-point U.S. drop, it could be that every recession has reflected a common monetary policy shock, David Mackie writes.
Since the ECB remains accommodative this time around, "then the co-movement between U.S. and euro-area growth should be less than the historical average, if the U.S. enters recession in the next few years."
The Tax Cuts and Jobs Act: An Appraisal
Published Aug. 7, 2018
Available on the IMF website
The U.S.'s tax reform passed at the end of 2017 is "multi-faceted, complex, and leaves considerable uncertainty as to how the system will look in just a few years," according to a review of the legislation by International Monetary Fund researchers including U.S. mission chief Nigel Chalk.
The reform could have been better structured to support the middle class, they write, specifically calling out provisions like a doubling of the estate tax exemption. That said, the authors say the tax law could create both a short-term fiscal boost and a "modest improvement" to potential growth, largely because it may spur capital investment.
Against that backdrop, the U.S. may spend more than a decade with unemployment below its natural rate, and thanks to that sugar-high economy, the Fed will have to hike interest rates higher and faster than they otherwise would. That could "potentially create volatility and disruptions in U.S. asset markets," the economists write.
(Demo)graphic: Middle Child Syndrome
Middle children have become rarer, but a growing share of Americans now say three or more kids are 'ideal'
Published Aug. 9, 2018
Available on the Pew Research website
Family size has been on the decline -- but mothers with postgraduate degrees are actually having more children today than in 1995. "Highly educated women are the only group with a declining share of one-child families and a rise in families of three or more," according to a Pew Research analysis by Kristen Bialik.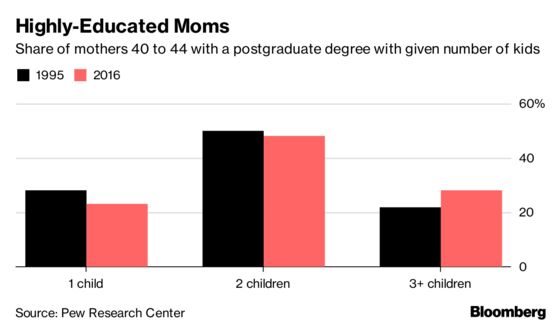 Interestingly, the share of Americans who see families of three or more children as ideal has risen across education levels since 2011, though the share of mothers having that many kids hasn't budged much on aggregate.