Scholz Vows Climate Action, Covid Response in Germany Revamp
(Bloomberg) -- Olaf Scholz set out to steer Germany through the resurgent pandemic and transform Europe's largest economy into a climate leader as the Social Democrat prepared to succeed Angela Merkel as chancellor. 
In a presentation in an industrial hall along Berlin's Spree river, the 63-year-old first addressed Germany's brutal Covid-19 outbreak in a sign of the pressure already bearing down on him and his partners even before they've formally formed the next government. He then called for a wave of spending to upgrade the industrial economy and combat climate change. 
"We have resolved that this will be a decade of investment," he said on Wednesday, flanked by heads of the coalition parties.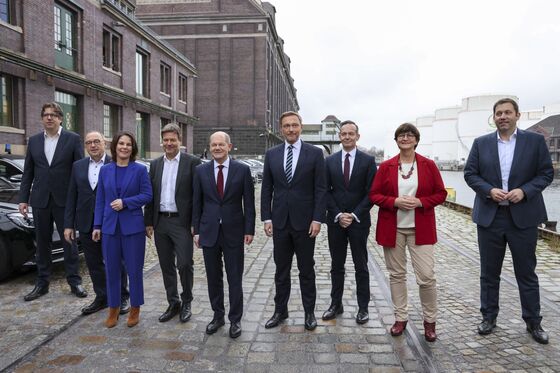 After nearly two months of intense negotiations, Scholz's center-left Social Democrats reached a deal with the Greens and the pro-business Free Democrats early on Wednesday, drawing a line under Merkel's 16-year tenure. 
China, Cannabis, Coal: What's New in Germany's Coalition Plan
Despite the bravado, many of the proposals remain vague. Climate protection policies to get Germany in line with the Paris accord are a work in progress that the parties only intend to finish by the end of next year. And much of the spending for the country's technological overhaul will depend on investors, as the coalition agreed to stick to borrowing restrictions.
"We are sure that we will be able to answer all the investment questions raised in the coalition agreement in the next few years," Scholz said. "A large part of what is happening is private-sector investment anyway."
The three-way alliance -- a novelty on the national level -- creates a policy melange that seeks to reconcile commitments to environmental protection with a higher minimum wage and clamping down on debt spending.
The new government has little time to settle in. The country's pandemic response has become a shambles, geopolitical tensions are escalating over Russia's military buildup on its border with Ukraine, and the European Union is battling with the fallout from Brexit and disputes on its eastern flank.
There are also high expectations, especially on the Greens, which are expected to implement sweeping environmental reforms. The party also has to contend with Merkel's legacy. During her four terms as chancellor, she became one of the West's most respected leaders but left the country exposed to China's expansion and changing technologies.
The new alliance targets climate neutrality by 2045. It aims to eliminate coal-fired power plants by 2030, meet 80% of its energy needs from renewable resources by the time, and accelerate the transition to electric vehicles. 
Key Proposals
Pledges to return to constitutional debt limits by 2023
Increased investment in rail over roads to accelerate the decarbonization of transport
State development bank KfW will be strengthened and used as an engine for investment and innovation
Make the EU's growth an stability pact more flexible and transparent
Limit rent increases in tight housing markets to 11% over three years from current 15%
Legalize the recreational use of cannabis
But many details are lacking, and there are question marks over how the disparate parties will work together under the real-world pressures of government. 
Tensions between coalition members already appeared to bubble to the surface at the presentation. Annalena Baerbock, the Greens' former chancellor candidate, was cast somewhat into the shadows. Her speaking slot followed her fellow Greens co-leader Robert Habeck -- with the two awkwardly sharing a narrow podium -- and she was momentarily drowned out by SPD co-leader Saskia Esken. 
Scholz, a low-key pragmatist in Merkel's mold, has years of experience as finance minister, mayor of Hamburg and an SPD heavyweight dating back to Gerhard Schroeder's chancellorship. But many of his potential cabinet members are untested.
FDP Chairman Christian Lindner, an advocate for fiscal discipline, has been proposed as finance minister. Habeck is expected to become a "super minister" overseeing the economy along with climate and energy policy, while Baerbock could set a new tone for Germany on the global stage as foreign minister.
While Germany's system of coalition governments promotes stability, the new administration would be about as big a break as possible. Merkel's Christian Democratic-led bloc is being relegated to the opposition for only the third time since World War II, and the three-way combination is unprecedented.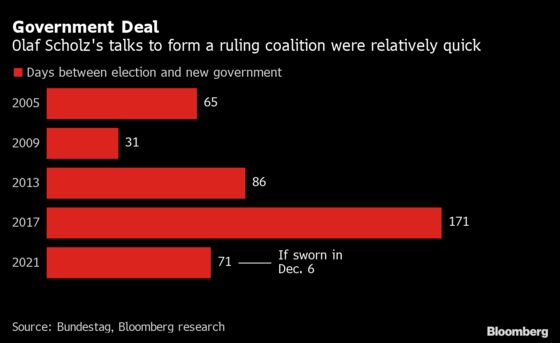 The alliance pact secures a majority in the lower house of parliament, which is expected to swear in the new government in early December -- after the parties' members sign off.
"The world is in upheaval, so we can't afford to stand still," Scholz and his partners said in the coalition agreement. "If we shape these upheavals, there will also be great opportunities."