Schnabel Prepares for ECB With Call for Clearer Inflation Goal
(Bloomberg) -- Isabel Schnabel, one of two new Executive Board members joining the European Central Bank this week, signaled that she wants a more precise inflation goal and warned her native Germany against unjustified criticism of the institution.
Under its new president, Christine Lagarde, the ECB is about to launch its first strategy review since 2003, tackling questions such as why price growth has stayed stubbornly low despite trillions of euros of monetary support. Some officials see the current inflation goal of "below, but close to, 2%" as part of the problem, pushing the ECB to rein in stimulus too soon.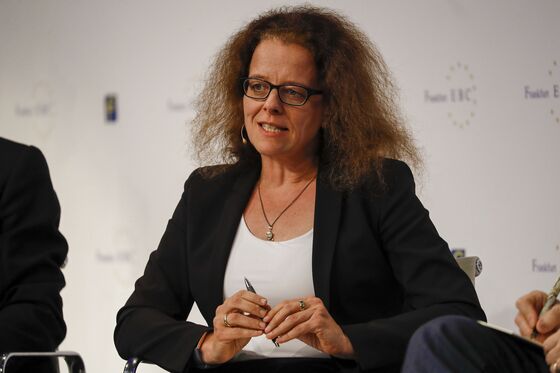 "More clarity certainly can't hurt," Schnabel said in an interview with Boersen-Zeitung newspaper to be published Tuesday. "It's not clear whether everyone truly treats the current goal as symmetrical. It seems to me as if it wasn't originally understood as symmetrical. These are things that must be clarified."
On suggestions that the ECB should opt to keep inflation in a particular range, she said she didn't want to preempt the discussions but "it is at least questionable whether that would bring more clarity."
Schnabel will join the six-member board, which designs and implements policy proposals, on Jan. 1 along with Italy's Fabio Panetta. She was appointed after Sabine Lautenschlaeger unexpectedly resigned this year, becoming the third German national in succession to quit ahead of time.
In the Boersen-Zeitung interview, Schnabel reinforced her reputation as an economist who'll defend the ECB against uninformed criticism. German politicians and media have regularly lambasted the policies of ultra-low interest rates and large-scale bond purchases.
Otmar Issing, a former Bundesbank and ECB chief economist, co-signed a letter this year saying those policies mean the next major crisis will be of "very different dimensions than those we have seen before."
Schnabel called that view "somewhat exaggerated," and said Germany needs to update its understanding of what the central bank does.
"ECB monetary policy isn't oriented only toward Germany, but toward the whole euro zone. In Germany, that's never properly sunk in," she said. "Factual criticism is necessary and important, but aggressive and non-fact-based criticism of the ECB leads to an erosion of trust in the ECB and the euro."
Still, Schnabel reiterated that she would have preferred policy makers to wait a bit before restarting quantitative easing, a divisive step taken in September under Lagarde's predecessor, Mario Draghi.
She also said she's keeping a close eye on the unwanted side effects of ultra-loose money such as rising real-estate prices.
Schnabel welcomed Lagarde's plan to include climate change in her strategic review, saying that while it's primarily a political issue, an institution as important as the ECB must consider what it can do to support a more sustainable economy. At the same time, she said it would be "problematic" for her if the quantitative-easing program were to prefer so-called green bonds.