Britain Tries to Banish Ghost of Austerity Past
(Bloomberg) -- As the U.K. figures out how to restart its economy, the realization that key workers bore the brunt of spending cuts after the last crisis is shaping the debate over who pays for the latest one.
Billboards and television ads praising the National Health Service for confronting the coronavirus pandemic stand in contrast with regular studies showing how front-line staff earn below the target minimum wage. That's putting pressure on Prime Minister Boris Johnson's government to ensure that the bill for its massive aid program to help businesses and households stay afloat doesn't land on those who can least afford it.
Critics of austerity use Britain as an example of how not to do things when an economy is recovering from a shock. They say the deepest budget cuts of the postwar era after the global financial crisis led to a slower recovery than other advanced countries.
The burden was also uneven. The poorest tenth of the population lost 11% of their income while the richest tenth lost 2%. Johnson said on Thursday that austerity would "certainly not be part of our approach."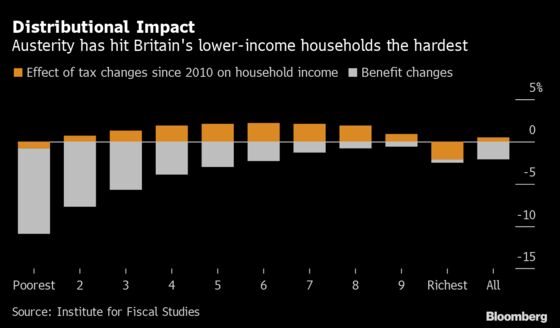 Chancellor of the Exchequer Rishi Sunak has rolled out aid at a scale unprecedented in peacetime to address the impact of the pandemic, including providing wages for almost 6 million people idled by their employers. 
This time around, the borrowing binge to finance the rescue program is fueling a discussion on how to avoid worsening inequality, something that could prove politically toxic for a leadership that's vowed to "level up" the country after leaving the European Union.  
"The NHS workers, the care workers, teachers looking after key workers' children, I just don't think the political and public appetite would be there to see spending on their wages held down," said Nicky Morgan, who was economic secretary to the Treasury under former Chancellor George Osborne, the architect of the previous cuts. "Resuscitating the economy has got to take precedence over getting debt down."
A third of key workers, including some staff in the NHS and care homes on the front line in the fight with Covid-19, already earn less than 10 pounds ($12.50) an hour, according to the Resolution Foundation, a think tank. 
Many of them are reliant on public funding, which has borne the brunt of over 100 billion pounds of budget cuts since the Conservative Party came to power in 2010. Living standards, meanwhile, had only just returned to where they were before the financial crisis after the longest downturn in two centuries.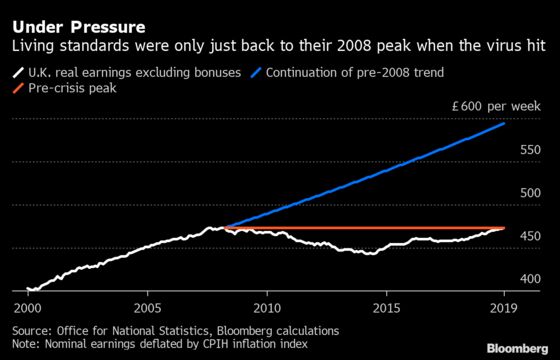 The concern among some politicians like Morgan involved in the last austerity program and anti-poverty campaigners is that many of those people who have been crucial in treating patients, delivering supplies to the quarantined or keeping critical infrastructure going during the pandemic get caught up in the fiscal aftermath.
"After all of this, are we going to go back to a world of austerity, which is what we did in 2010, or not? My suspicion is that the balance of power here has shifted somewhat because our lives have so depended on these fantastic folks," David Blanchflower, an economics professor at Dartmouth College and a former Bank of England policy maker, said on Bloomberg Television. 
Covid-19 has exposed shortages of staff and vital equipment in the health system. While largely sheltered from the most severe cuts, spending on the NHS when adjusted for inflation rose 1.3% a year over the past decade compared with 6% under the previous 13 years of Labour government.
But it's also highlighted how many front-line workers live from pay check to pay check. Karolina Gerlich runs a British organization that looks after people who look after people. She's never been busier. The 31-year-old executive director of the Care Workers Charity and her team of six working from home have approved more money in grants for financial help in April than in the whole of last year.
The problem, she said, is that many of the front-line workers risking their lives in the coronavirus pandemic are falling between cracks in the government's support package. Many are having to self-isolate while on either low pay or statutory sick pay, which is enough to tip more into debt, she said.
"We have care workers in absolutely desperate financial need," said Gerlich, who has worked in care for 12 years. "There are people sitting at home doing nothing, bored out of their minds, not contributing anything to this crisis, who are getting more money than care workers are."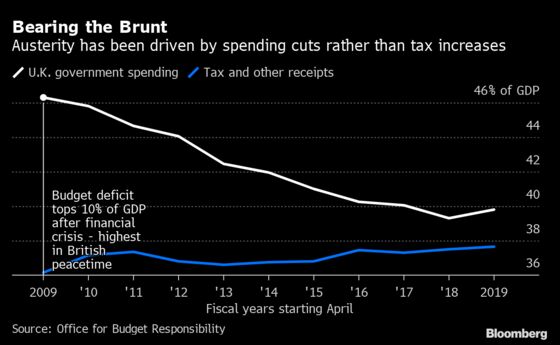 Already, there's growing consensus that there should be a different tack with forecasts suggesting the economy could shrink more in 2020 than in any year since the aftermath of World War I. One option is to allow growth and inflation to shrink the debt burden, and increase taxes on wealth.
Indeed, austerity would be a tough sell politically. The last post-crisis reckoning fueled a backlash in disaffected regions that ultimately contributed to Britain's vote to leave the European Union. In December's election, many backed Johnson to deliver on promises that he would distribute wealth more evenly after Brexit.
"We've had 10 years of fiscal consolidation through mainly spending cuts which has put lots of vital public services under massive strain," said Dave Innes, head of economics at the Joseph Rowntree Foundation, an anti-poverty organization. "It wouldn't be possible to do the same again."
The measures taken so far have massive repercussions on public finances. A three-month lockdown could see the deficit swell to 273 billion pounds in the current fiscal year—14% of gross domestic product—and briefly push debt above 100% of output, according to the country's fiscal watchdog. The next review on whether to ease social-distancing restrictions is due by May 7 and Johnson, who himself was hospitalized with the virus last month, is cautious about moving too soon.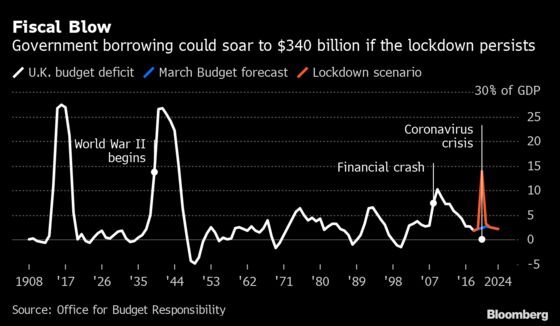 The eye-watering cost of the government's pandemic response, which includes paying salaries, tax breaks and support for businesses, was crystalized last week. The Debt Management Office quadrupled its planned bond sales to fund a budget deficit that's expected to swell beyond levels seen in the financial crisis and hit a postwar high.
Sunak said last month that "this is not a time for ideology and orthodoxy" when it comes to supporting the economy. Britain may also test the theory that instead of austerity it's possible to accept a permanent increase in stock of debt, something that would be helped by the Bank of England keeping monetary policy loose.
The country's effort to pay down borrowing since the last crisis has also enabled it to turn the spending taps on, according to Matthew Lesh, head of research at the Adam Smith Institute.
Osborne warned that another "period of retrenchment" will eventually be needed. His version of austerity was primarily driven by a reduction in departmental spending, rather than tax rises—a mix that looks that looks increasingly difficult to repeat.  
"I don't think it's politically feasible to go back to almost any part of the public sector to try to reduce spending significantly," David Gauke, who was a Treasury minister under Osborne and later served as chief secretary to the Treasury. "Taxes will have to take much more of the strain than was the case after 2010."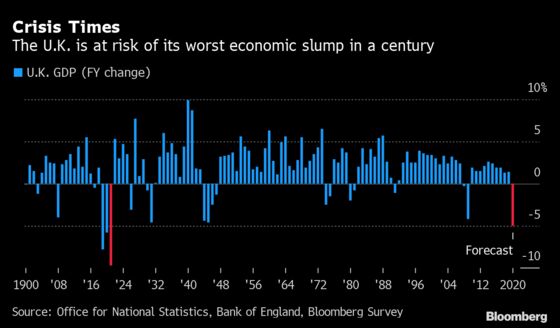 Carsten Jung, a former Bank of England official and now a senior economist at the Institute for Public Policy Research's Centre for Economic Justice, sees scope to raise more revenue by taxing the wealthy. Simon Wren-Lewis, an economics professor at Oxford University, advocated a progressive tax if the government wants to reduce its debt.
Both also agree that the U.K. should learn from the last crisis and secure a return to economic growth first. Sunak has expressed similar sentiment, opening the door for more spending. One possible avenue is to follow through on infrastructure investment, helping boost productivity and growth in areas of Britain that have lagged behind.
"A key lesson was not to choke off the recovery," said Wren-Lewis. "Wait until output has recovered completely before worrying about debt."