Scale of ECB Outlook Cut Is Said to Justify New Long-Term Loans
(Bloomberg) -- European Central Bank officials are poised to cut their economic forecasts by enough to justify another round of loans for banks, according to people with knowledge of the matter.
The latest projections show extensive downgrades for inflation and economic expansion in 2019, with an assumption of a pickup toward the end of the year, said the people, who declined to be identified because such matters are confidential. The inflation outlook will be cut through 2021, they said.
Bank stocks rose on the news, as did Italian and Spanish bonds. The yield on Italy's 10-year debt fell to the lowest since January. The euro was little changed as of 5:40 p.m. Frankfurt time, having initially dipped after the report.
Despite the revisions, a full announcement on new loans may not come on Thursday.
Armed with the forecasts, policy makers will debate on Wednesday the design of fresh funding operations based on their existing targeted lending program, with a focus on how long they should last and at what interest rate, the people said. The discussions will feature the sort of staff presentations that preceded previous major announcements, though that doesn't necessarily mean all details of a decision will be available this week, they said.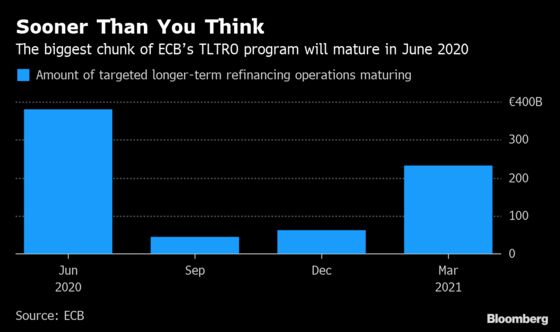 The ECB's forecasts aren't official until President Mario Draghi unveils them after policy makers' decision on Thursday. He and his colleagues have framed discussions on any extension of the so-called TLTRO program around having a monetary-policy case, rather than simply pandering to the needs of individual lenders.
The ECB is just the latest central bank to respond to a slowdown that's gripped the global economy since last year. The Federal Reserve has already put its rate-hike cycle on pause, the Bank of England has cut its economic outlook, and China lowered its growth target this week.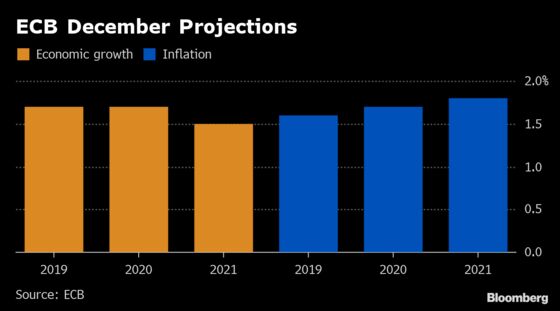 On Wednesday, the Organisation for Economic Cooperation and Development offered its own take, slashing German and euro-region growth forecasts and predicting a full-year contraction in Italy. It also urged the ECB to enact new measures to improve bank funding.
Views on the Governing Council differ on the health of the economy. Hawks such as Bundesbank President Jens Weidmann have insisted the current weakness is a soft patch that won't last. Others including Bank of Italy Governor Ignazio Visco -- whose country is in recession -- are warning of the risk of a downward spiral, according to the people.
An ECB spokesman declined to comment on the ECB's discussions or forecasts.
What Bloomberg's Economists Say

"We also expect a lengthy discussion of the impact TLTRO measures have had on the transmission of monetary policy and the economy. Some indication that a funding cliff will be addressed is likely, but firm announcements will probably be saved for later."

--Jamie Murray and David Powell, economists
Click here to view the research.