Saudi Rulers Rally Support on Home Front as U.S. Pressure Mounts
(Bloomberg) -- It's been more than a decade since any Saudi monarch went to Ha'il, once an outpost on the old pilgrimage trail to Mecca. King Salman's arrival last week in the northern province his father conquered a century ago showed the importance of rallying the home front as international support for Saudi Arabia falters.
As a global outcry over the killing of a government critic morphs into a U.S. demand for Saudi Arabia to end its war in Yemen, King Salman has turned to traditional means of building domestic loyalty. Greeted by throngs of well-wishers, the 82-year-old monarch embarked on his first tour of the country since assuming the throne in 2015. He ordered the release of indebted prisoners and unveiled billions of dollars worth of projects in far-flung areas that have sometimes felt forgotten by Riyadh.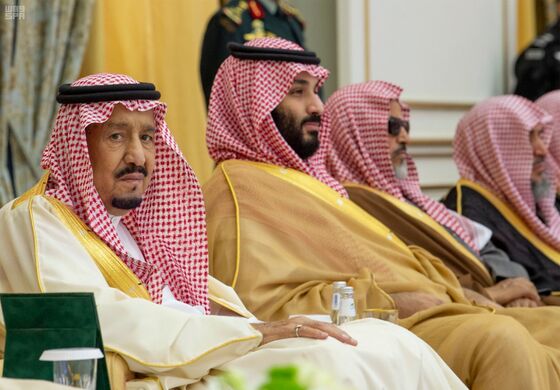 While not unusual for the Saudi monarchy, the largess represents a return to older ways just as Crown Prince Mohammed bin Salman has staked his reputation on overhauling the oil-dependent economy and easing social restrictions. Architect of its costly Yemen intervention and boycott of Qatar, the prince's role in the day-to-day running of the kingdom has placed him the center of the political maelstrom over Jamal Khashoggi's murder.
King Salman is "deploying traditional forms of legitimacy, royal patronage and prestige to shore up support for his son," said Kristin Diwan, a senior resident scholar at the Arab Gulf States Institute in Washington. "At the same time, if a threat to his leadership within the family were imminent, he wouldn't be touring the provinces."
On the Islamic calendar, the visit to Hai'l was one hundred years to the day since the founder of modern Saudi Arabia, King Abdulaziz, conquered the area.
Today, as Prince Mohammed reshapes the kingdom his grandfather built, he is facing different challenges. Turkey has insinuated that Prince Mohammed was behind the killing of Washington Post columnist Khashoggi at the Saudi consulate in Istanbul, a charge authorities have vehemently denied.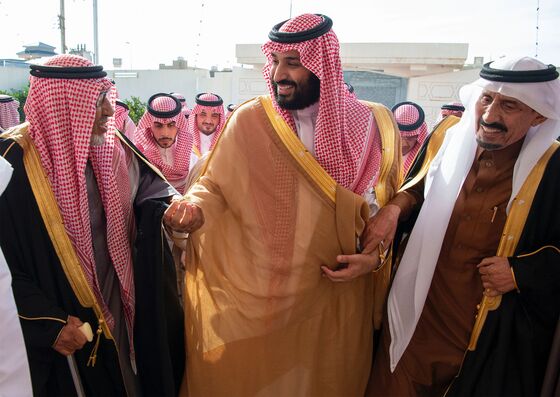 Key alliances are being tested. Days before the tour, President Donald Trump, initially reluctant to pressure his ally over Khashoggi, said Saudi Arabia had misused U.S.-supplied weapons in the Saudi-led coalition's bombing campaign in Yemen. With Democrats winning control of the U.S. House of Representatives last week, pressure is only likely to increase.
But in the kingdom's rural regions, where unemployment is high and opportunities limited, it's the economic and social changes unleashed by the prince that matter most.
"We are hoping that King Salman will speed up the development plans for projects that are profitable and suitable for Ha'il region," said Eid Al Shammari, 68, a retired educator and former member of the consultative Shura Council.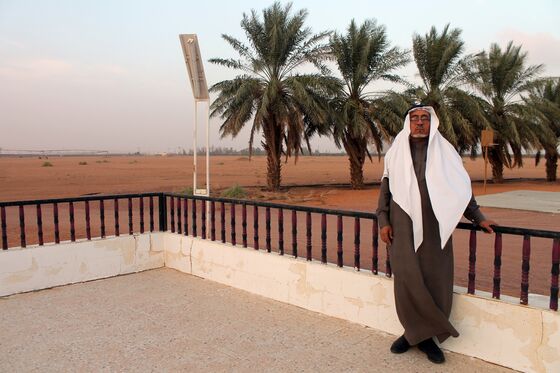 Over the past few years, King Salman has often faded into the background as his son took the lead. It's Prince Mohammed who's courted foreign investors, loosened social restrictions in the conservative Islamic society and cracked down politically -- marginalizing powerful royal relatives and imprisoning critics.
Though his rapid consolidation of power has made that position secure, on the tour, the king was front and center, with Prince Mohammed by his side. Some Saudis read that as a message that King Salman remains firmly in charge.
First the royal delegation headed to Qassim, Saudi Arabia's conservative heartland, presiding over the launch and opening of hundreds of projects worth more than 16 billion riyals ($4.3 billion).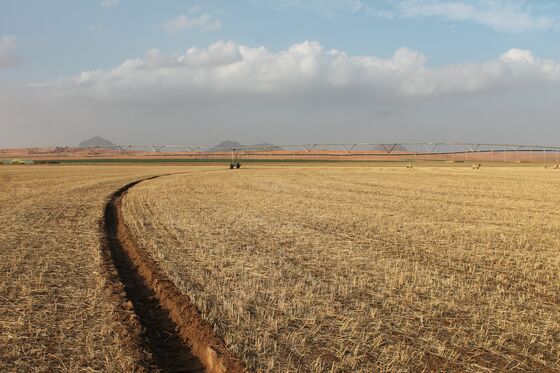 Then it was Ha'il, a region of about 700,000 people a six hour drive from the capital, where farmers grow date palms, oranges, olive trees, and potatoes in the relatively cooler climate.
As the king arrived, buildings were lit up in the colors of the Saudi flag, billboards declared him heartbeat of the nation and hundreds of citizens had gathered for his welcoming ceremony. Lining up to pass through a metal detector, Mohammed Al Rashidi was on the verge of tears. "I want to shake hands with King Salman and kiss his forehead," said Al Rashidi, a 29-year-old unemployed man who came from 200 kilometers away.
For decades, Saudi monarchs have built political loyalty with economic support.
In 2006, after officially assuming the throne, the late King Abdullah toured the country, unveiling major projects. In Ha'il, which like many Saudi regions has suffered from uneven development, he launched a grand "economic city" development that aimed to turn the area into an industrial hub. It later faltered and was downsized.
As revolts spread through the Middle East in 2011, the Saudi monarchy injected tens of billions of dollars into the social benefits and housing.
Unemployment remains a pressing issue, however, as universities churn out graduates who don't find enough jobs waiting for them. "In Riyadh, maybe they cannot feel the problems of Ha'il or the potential of Ha'il," Al Shammari said.
Enjoying a picnic with her family in a local park, 20-year-old Hajer Al Otaibi said she was also eager for Prince Mohammed's planned social changes, like entertainment, gender mixing and greater women's rights, to reach her hometown.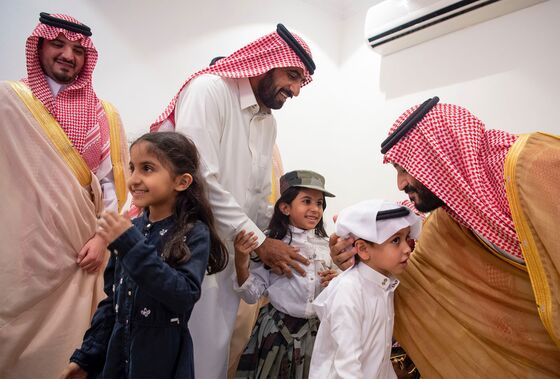 In private, however, some Saudis say it's become more difficult to reach the king and his court over the past few years.
Stuck in traffic on the night of the king's arrival, Abdulmajeed, a 33-year-old high school teacher and Uber driver, spoke of feeling unable to move on to the next stage of his life. Crushed by debt after paying for surgery for his father and supporting his unemployed brother, he can't afford to get married.
When he sought help from the government more than a year ago, he was asked to send a request by mail to the royal court. He never heard back. He'd hoped to meet the royal delegation in Ha'il but didn't know how. 
As he maneuvered through roadblocks and detours while telling his story, he turned to ask nervously: "If I give you my request, can you reach them?"