Saudi Oil Exports Soar Ahead of OPEC+ Cuts on China, U.S. Demand
(Bloomberg) -- The oil-price war that Saudi Arabia started last month may be over, but the effects are still rippling through the market.
The kingdom's crude exports in April skyrocketed to about 9.4 million barrels a day -- the highest level in at least three years -- due to soaring shipments to China, India and the U.S. The surge, partly the result of Saudi Arabia slashing its official selling prices last month, comes just as OPEC+ production cuts are set to take effect in an effort to reduce the oil glut.
Observed shipments, which are preliminary and subject to revision, are the largest volume since Bloomberg began tracking flows at the beginning of 2017. They compare with exports of 7.4 million barrels a day in March.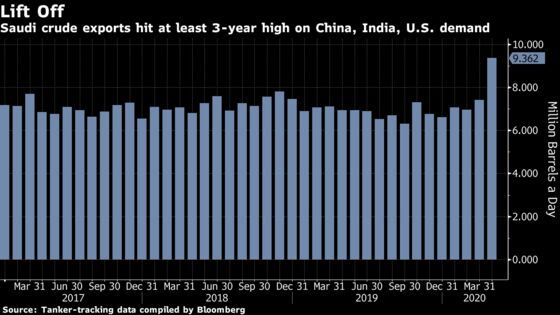 Ballooning Saudi crude exports had been expected since early last month, when the alliance between the Organization of Petroleum Exporting Countries and a group of other nations initially fractured over the response to the unfolding coronavirus pandemic and collapse in demand. State-run oil company Saudi Aramco then cut prices for April to the lowest level in decades, setting off a battle for market share.
That meant cheap crude for potential buyers. Saudi exports to China in April surged to 2.2 million barrels a day, while those to India rose to 1.1 million -- both the highest in at least three years. Flows to the U.S. increased to 1 million barrels a day, the most since at least August 2018.
Those volumes could swell further, with ships hauling 14 million barrels yet to signal their final destinations. In addition, at least five supertankers laden with Saudi crude have been idling for at least a week off the coast of Egypt -- an indication of possible floating storage.
For May, Aramco cut prices even further for some markets, notably Asia. However, it's not clear whether April's export boost will continue at the same rate next month. To help reduce the glut, the OPEC+ coalition put aside its differences and agreed to curb supply once again, starting tomorrow. Saudi Arabia has pledged to limit its output to about 8.5 million barrels a day.