Toll of Virus, Oil on Saudi Budget Laid Bare With Revenue Plunge
Saudi Arabia suffered a simultaneous decline in oil and non-oil revenue as the global pandemic combined with lower energy prices to jolt the kingdom's public finances.
Oil revenue was down 45% in the second quarter from the same period last year to 95.7 billion riyals ($25.5 billion), according to budget data released by the Finance Ministry on Tuesday. Non-oil revenue drawn from sources like taxes and fees declined by 55%.
The deficit more than tripled from the first quarter to 109.2 billion riyals even though authorities cut spending by 17% compared with a year earlier.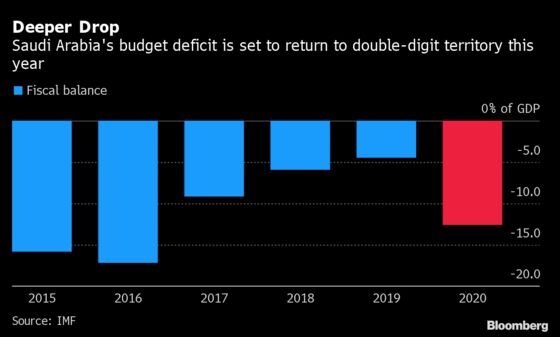 "A widening in the deficit was expected with the Covid-19 development, both on the income and non-income side," said Monica Malik, chief economist at Abu Dhabi Commercial Bank. "The government has been proactive with the austerity measures they've introduced. Oil revenue will be critical for reducing the fiscal shortfall."
Facing a twin crisis from the coronavirus pandemic and oil market turmoil, the government has taken unprecedented measures to steady its finances, including tripling value-added tax, increasing import fees, and canceling some benefits for government workers. Some economists say the budget deficit could widen to 15% of gross domestic product this year, comparable to the levels it reached after the last oil rout of 2014.
But Finance Minister Mohammed Al Jadaan has said the world's largest oil exporter "is not in austerity" and described changes in spending as a reallocation in outlays.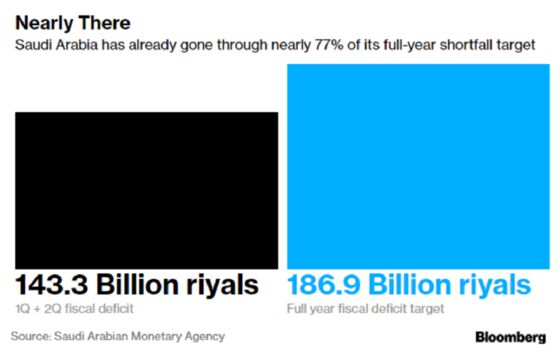 "Although recent fiscal measures should help limit the kingdom's fiscal financing requirements in the second half, we expect a full year fiscal deficit of 10.9% of GDP," said Bilal Khan, head of economic research for the Middle East, North Africa and Pakistan at Standard Chartered Plc in Dubai.
Also on Tuesday, Saudi Arabia's central bank released a report showing that its net foreign assets had declined by 0.4% in June, reaching 1.66 trillion riyals ($443 billion). That's the lowest level since 2010.
Other key points from the new budget data include:
The budget shortfall in the first half of the year was equivalent to nearly 77% of the government's full-year deficit target
The biggest spending cut came from capital expenditures, which fell by 52% in the second quarter year-on-year, followed by spending on social benefits with a drop of 48%
Spending on the compensation of government employees declined 4% in the second quarter as officials continue to try to trim the public sector wage bill
A spending breakdown by sector for the first half of the year showed that military spending -- the largest budget item after education -- declined by 8% compared with the same period last year
Spending on a category labeled "health and social development" fell by 22% in the first half -- though the government

noted

that expenditure on health services alone increased by 24% during the same period, as authorities expanded health care outlays during the pandemic