Saudi Arabia Is Paid to Borrow in Second-Ever Euro Bond Sale
(Bloomberg) -- Saudi Arabia joined the ranks of countries that get paid to borrow in euros as the outlook for the kingdom turns favorable with a recovery in oil prices.
The world's largest crude-oil exporter sold 1.5 billion euros of bonds ($1.8 billion), the second time it's issued debt in the common currency, after attracting orders for more than three times the notes on offer, according to a statement on the Finance Ministry's website.
The Chinese government, which has the same rating as Saudi Arabia from Moody's Investors Service, issued debt in euros at a negative rate for the first time last year.
1 billion euros of Saudi Arabia's three-year notes were priced at 40 basis points over midswaps, compared with initial price guidance of about 60 basis points, according to people familiar with the matter
500 million euros of nine-year securities were priced at 70 basis points over midswaps, compared with roughly 90 basis points at the start of the sale
The yields were minus 0.057% for the three-year debt and 0.646% for nine-year notes
Borrowers are clamoring for euro debt because of the relatively low costs and a hefty base of buyers in Europe looking for returns outside their region. While global central banks remain accommodative and are unlikely to raise interest rates before 2023, markets are signaling inflation is finally coming to the developed world.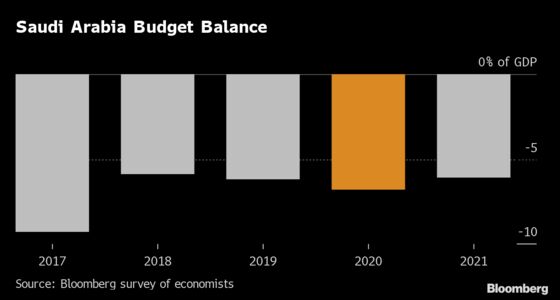 The kingdom's offering could prompt its Gulf Cooperation Council neighbors to tap the euro bond market, according to Sergey Dergachev, senior portfolio manager for emerging-market debt at Union Investment in Frankfurt. "A successful Saudi placement in euros will have a strong signaling effect for other higher-rated GCC sovereigns like Qatar or Abu Dhabi," he said.
"It's also about investor diversification," Dergachev said. The euro deal "will deepen the relationship with more European accounts," he said.
Saudi Arabia expects public debt to increase to 937 billion riyals ($250 billion) by the end of 2021, reaching more than 30% of economic output, according to government forecasts. The government said in its annual borrowing plan it intends to secure most of the external debt needed to fund this year's deficit by June.
Goldman Sachs Group Inc. has estimated the kingdom may need to borrow $10 billion abroad in 2021.
The offer follows a $5 billion deal at the end of January, which drew orders for more than four times the notes on sale. The yield on the kingdom's $2.75 billion bond maturing in 2033 has risen more than 20 basis points to 2.59% since their issuance.
BNP Paribas SA, Goldman Sachs Group Inc. and HSBC Holdings Plc are global coordinators for the new sale, and Citigroup Inc, JPMorgan Chase & Co, Standard Chartered Plc and Samba Capital are the passive joint bookrunners.