Saudi Arabia's Free Zone Tariff Exclusions Signal Widening Rift
(Bloomberg) -- Saudi Arabia said it would exclude imports from free zones or linked to Israel from a preferential tariff agreement with neighboring Gulf Arab countries, signaling growing strains in relations with the United Arab Emirates which has normalized relations with the Jewish State.
According to a ministerial decree published Saturday in the Saudi official gazette Umm al-Qura, products coming out of free zones across the six-member Gulf Cooperation Council will be handled as if they were foreign imports. The decree also stipulates that goods using inputs from Israel, or from firms partially or fully owned by Israeli companies, would not benefit from reduced duties aimed at facilitating intra-regional trade.
Free zones, where firms operate under a different set of regulations to the rest of the country, are operational in various parts of the Gulf but are a pillar of the economy in the UAE, where Dubai has established itself as an international trade hub. Saudi Arabia has been increasing pressure on international firms to shift their Middle East headquarters to the kingdom, posing a direct challenge to Dubai as regional rivalry heats up.
"Saudi Arabia and the UAE had open disagreements on a number of issues in recent days," said Ziad Daoud, Chief Emerging Markets Economist at Bloomberg Economics. "On oil policy, their rift within OPEC+ was unusually public. On public health, Saudi Arabia has restricted its citizens' travel to the UAE on virus concerns. Finally, the decision to exempt goods made in free zones and the reference to Israeli input shows escalating regional competition."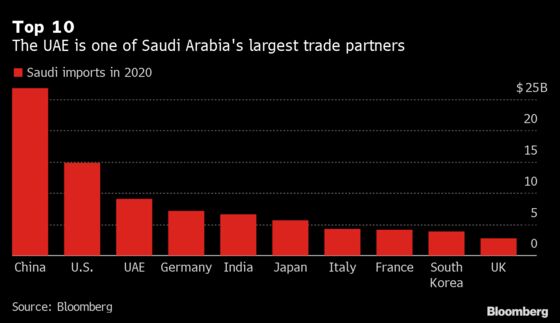 The UAE normalized relations with Israel last year and the two countries have since signed a string of agreements to grow business ties and introduced direct flights that have carried tens of thousands of Israeli tourists to Dubai. Bahrain has also normalized ties with Israel.
A disagreement over oil production within the OPEC+ alliance of crude exporters last week exposed growing differences between the two Gulf Arab allies. Saudi Arabia moved to ban its citizens from the UAE, citing pandemic concerns, and the import policy is a further sign of diplomatic strain.
"Saudi Arabia will exclude from the GCC tariff agreement goods made by companies with a workforce made up of less than 25% of local people and industrial products with less than 40% of added value after their transformation process," the decree said. Saudi Finance Minister Mohammed Al-Jadaan said in a tweet that the move was meant to support Gulf manufacturing and encourage local inputs.
The change comes as Saudi Arabia plans its own network of free zones with the goal of diversifying its economy and attracting foreign investment, a strategy that the UAE and Oman have relied on for years. Saudi officials are working on the framework for special economic zones across the kingdom that will provide incentives and smoother bureaucracy to attract businesses.
However, Saudi Arabia has had mixed results with special zones in the past, with projects like King Abdullah Economic City on the kingdom's Red Sea coast struggling to get off the ground.