Satellites Show China Manufacturing Output Contracted in October
(Bloomberg) -- Chinese manufacturing output contracted in October, according to an index based on satellite imagery.
The China Satellite Manufacturing Index, which the U.S.-based firm SpaceKnow Inc. compiles using satellite imagery to track activity levels across thousands of industrial sites, slipped below 50 in October for the first time since June 2017. As with the official purchasing managers index, 50 is the dividing line between expansion and contraction.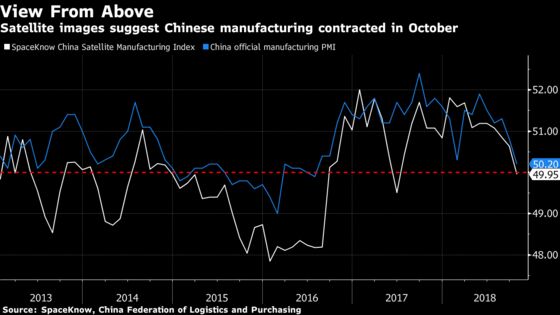 The official manufacturing PMI fell to 50.2 in October, its lowest level in more than two years, according to data published this week by the National Bureau of Statistics.
Manufacturers have come under pressure from the escalating trade war between the U.S. and China. U.S. President Donald Trump is planning to expand tariffs to cover all imported Chinese goods if Chinese President Xi Jinping does not accede to U.S. demands when the two leaders meet in November at a Group of 20 summit in Argentina, Bloomberg has reported.