San Francisco Fed Questions Whether Inflation Goal Has Been Met
(Bloomberg) -- At a time when the Federal Reserve seems to have hit both of its goals -- maximum employment and stable inflation near 2 percent -- a researcher at the San Francisco branch is questioning the sustainability of recent price increases.
Higher inflation this year has come from goods and services with prices that are generally driven by fleeting factors, rather than categories for which inflation is tied closely to economic conditions, Adam Shapiro writes in a Economic Letter published Monday. Should acyclical price gains revert to a normal pace, as they tend to over time, it could push inflation below the Fed target again.
"Despite a strengthening of the economy over the past year, cyclical inflation has remained fairly steady and is currently relatively lower than expected given the very tight labor market," the research adviser writes.
While his analysis shows that the risks that inflation could rise or fall are balanced, "a considerable possibility remains that inflation has not yet sustainably reached target."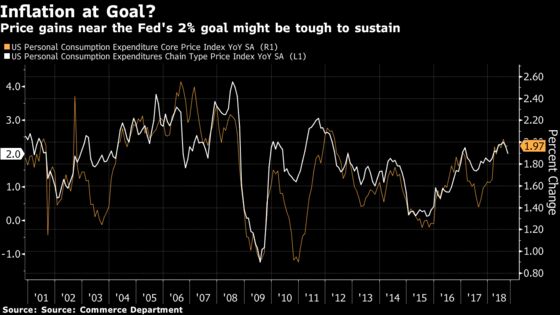 Non-cyclical inflation is contributing 0.5 percentage point more than a year ago, Shapiro says. While there's no "smoking gun" reason for the recent rise, cellular services and financial services charges and fees both pushed up non-health care inflation that isn't closely tied to the business cycle.
Since shocks to this type of inflation last less than a year on average, there's "some likelihood that non-health acyclical inflation will fall back to benchmark levels," he says.
Still, the outlook for the Fed's price goal isn't totally glum. Shapiro points out that if cyclical inflation snaps back in response to a tight labor market, as models would predict, core inflation could climb by 0.1 percentage point to 0.2 percentage point -- even more if labor market tightening persists.
The analysis draws on a methodology outlined last year by Shapiro and Tim Mahedy, who is now an economist at Bloomberg Economics.