Salvini Warns Against 'Colonizing Italy' Before China Accord
(Bloomberg) -- Deputy Premier Matteo Salvini fired a warning shot as his populist government prepares to sign an accord with China, saying he refuses to see foreign companies "colonizing Italy."
Salvini, whose League party campaigns on the Trump-like slogan "Italy First," expressed reservations after Prime Minister Giuseppe Conte said the country would sign a framework agreement with China on the massive Belt and Road Initiative infrastructure project.
"If it's about helping Italian companies invest abroad, we're ready to talk to anyone," Salvini told reporters on a visit to Milan. "But we're absolutely not ready to do so if it's a question of foreign companies colonizing Italy." National security is key, Salvini said, and decisions taken involving the telecommunications and strategic sectors need to look beyond mere economic considerations.
Conte said last week a memorandum of understanding will be signed during a visit to Italy by Chinese President Xi Jinping March 21-23. That announcement triggered concerns from the U.S., which has already spoken to the Rome government about security issues involving Huawei Technologies Co.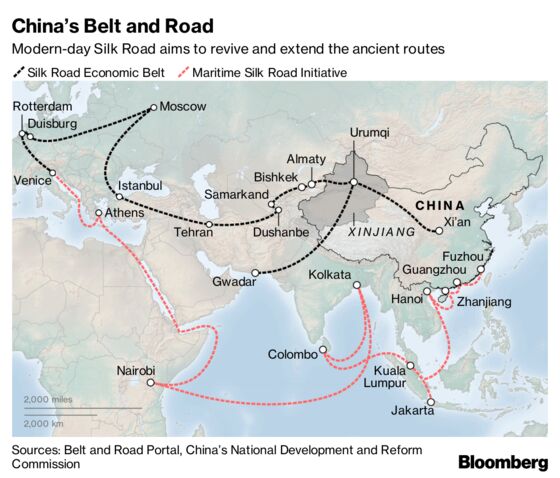 Asked about U.S. pressure to ban Huawei from future 5G telecom networks, Salvini said the government is studying areas which could invoke strategic concerns -- an indication that Huawei is indeed an issue for him.
The memorandum of understanding being drawn up by Italy and China doesn't include any agreement on 5G technology, Rome's Ministry of Economic Development said in an emailed statement shortly after Salvini's remarks. The ministry is headed by Luigi Di Maio, leader of the Five Star Movement, who is also deputy premier and Salvini's coalition partner.
Italy volunteered for a role in the Belt and Road spending program, as first reported by Bloomberg in October. Michele Geraci, undersecretary at the ministry for economic development, said in an interview last month that a possible agreement could help boost Italian business through a role in the Chinese project. Geraci is part of the League's government team.
Di Maio has said Italian intelligence has no security concerns about Huawei, adding that a new government agency will verify risks involving all suppliers to the country's telecommunications infrastructure.