Salvini Says Tria Must Heed Party Line, in Paper Interview
(Bloomberg) -- The leaders of Italy's ruling populist coalition have pushed back again on Finance Minister Giovanni Tria, taking him to task for questioning their plan to bail out troubled airline Alitalia SpA.
Italian Deputy Prime Minister Matteo Salvini said Tria should respect the coalition's agenda, including plans for buying a stake in Alitalia, according to an interview with daily Il Messaggero. The statement from Salvini, who was on a campaign tour in the northern region of Trentino, reinforces comments made two days ago by Five Star leader Luigi Di Maio, also a deputy prime minister.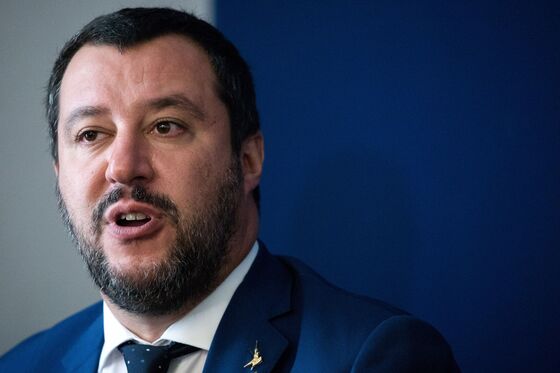 Tria, at the annual meetings of the International Monetary Fund and the World Bank in Bali, had reacted to statements by Di Maio on using public money to invest in Alitalia, saying he was the one in charge of that decision. His spokeswoman Adriana Cerretelli said Sunday that there's no clash within the government on Alitalia.
The rift between Italy's two populist leaders and their finance minister follows weeks of arm-wrestling between the three over the government's spending plans.
Tria eventually agreed to a 2019 deficit target of 2.4 percent of output, higher than investors were guided to expect, with the professor minister reportedly targeting a deficit below 2 percent to assuage markets. That has fueled speculation Tria might be replaced after the budget is approved at the end of the year.
Tria may leave in January as part of a government reshuffle, Il Messaggero reported Sunday, without saying where it got the information. Tria might be replaced by economics professors Gustavo Piga or Andrea Roventini, or by undersecretary Massimo Garavaglia, the newspaper reported.
Paolo Savona, the coalition's original pick for finance minister, would be out of the running, since he was already vetoed by President Sergio Mattarella because of his eurosceptic views in May, Messaggero said. Separately, Corriere della Sera reported that the League is backing Tria and wouldn't permit his replacement.
The yield spread between Italy's and Germany's 10-year bonds has widened to a 5 1/2-year high of 308 basis points.