S&P Upgrade Boosts Zloty and Bonds as EM Woes Threaten Rally
(Bloomberg) -- Polish bonds and the zloty bounced on Monday after S&P Global Ratings upgraded the sovereign, even as global risks limit interest in emerging markets.
Late on Friday, S&P lifted Poland to A-, the fourth-lowest investment grade, citing a "strong track record of balanced economic growth and fiscal prudence." The same ratings company handed Poland its only downgrade in 2016 as the then new government grabbed power from independent institutions, an issue which has since fueled an unprecedented conflict between Poland and the European Union over the judiciary.
The zloty extended last week's rally, gaining as much as 0.3 percent to a two-week high of 4.2832 per euro. Benchmark 10-year notes followed, with the yield dropping 4 basis points to 3.20 percent, on track for the lowest close since August.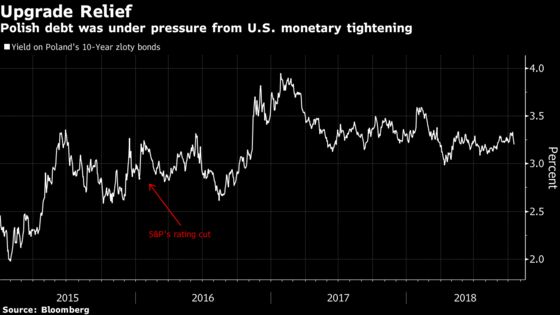 S&P's reassessment nearly three years after it cut is set to refocus investors on Poland's strong economy and fiscal discipline at a time when risks from global trade to rising U.S. interest rates erode sentiment toward emerging markets.
"The rating upgrade came faster than expected, and the fiscal and economic landscape that S&P is painting looks optimistic, so it may help Polish assets rise on Monday," Jakub Borowski, the chief economist at Credit Agricole SA in Warsaw. "The long-run impact is less probable, given the whole set of global factors that may reduce appeal" of Polish assets.
Poland's zloty bonds lost 3.9 percent in dollar terms this year, compared with a 6.5 percent drop in a Bloomberg Barclays EM Index. The zloty retreated 2.5 percent to the euro year-to-date and 6.2 percent to the U.S. currency.
Borowski expects the zloty to appreciate to 4.26-4.27 per euro from 4.2949 on Friday and the yield on benchmark 10-year bonds to fall below 3.2 percent from last week's 3.24 percent. The 2016 downgrade weakened the zloty by 2 percent against the euro and lifted yields on 10-year bonds 22 basis points.
Finance Minister Teresa Czerwinska said the sovereign may use the opportunity to return to foreign bond markets for the first time since January following the S&P upgrade.
For Grzegorz Maliszewski, the chief economist at Bank Millennium SA, investors' perception of institutional risks shouldn't change much after S&P's decision, as Poland remains in an open conflict with the EU over courts and faces new political and budget risks from next year's parliamentary election. He sees the zloty trading below 4.3 against the euro in the near-term.
"The 2016 rating cut by S&P was hasty, too aggressive," Maliszewski said by phone. On the other hand, the timing of the upgrade isn't "fortunate," as Poland's economic cycle has already peaked and the EU row remains unresolved, he said.