Russia Inflation Jumps Further, Pointing to Bigger Rate Hikes
(Bloomberg) -- Inflation extended its surge last month, raising pressure on the Bank of Russia to make a bigger increase in interest rates in December. 
Consumer prices rose 8.1% in October, the highest level since the beginning of 2016 and above the 8.0% median forecast of analysts surveyed by Bloomberg. Food prices jumped 10.1%, pushed by a surge in costs of fruits and vegetables amid a weather-delayed harvest. But the core index was also up 8.0%, the Federal Statistics Service said Wednesday.
"It's not possible to explain everything with one-time factors," said Uralsib economist Irina Lebedeva before the latest release. "If annual inflation rates continue to rise, then a 100 basis-point increase will be fully justified."
Since it began raising interest rates in the spring, the Bank of Russia has highlighted that the bulk of the jump in inflation was driven by short-term factors like a delayed harvest. But after 325 basis points of rate increases, price growth is still at the highest levels in five years.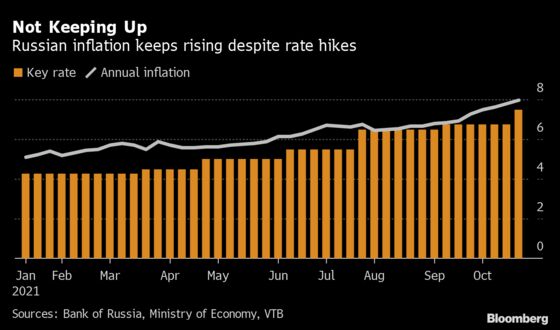 "Elevated inflation still looks sustained and there's no visible sign of it slowing down yet," said Dmitry Polevoy of Locko-Invest. He raised his forecast for the central bank's next meeting on Dec. 17 to a hike of a full percentage point, expecting inflation to reach 8.2% in December. 
Russia Swaps Traders Point to Key Rate at 9.75% Next Year: Chart
The central bank, which left open the possibility of such a big increase with its forecast for the average rate this year at the last meeting, sent another hawkish signal late Monday.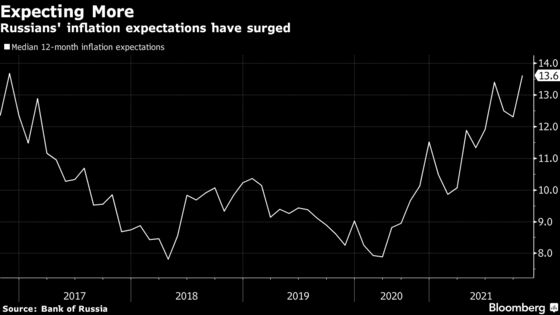 "On the whole, the pro-inflationary background is strengthening for 2022," the bank said in its quarterly monetary report, citing rising oil prices and foreign-trade factors.
What our economists say:

"The Bank of Russia can't do much about soaring food prices, but it's at the mercy of rising inflation expectations, which are closely linked. The latest data will add to pressure for a hike in December, perhaps even another big one." -- Scott Johnson, Bloomberg Economics 
"If you look at the current moment, the central bank has a lot to worry about" with inflation still high despite all the tightening, said Alfa Bank economist Natalya Orlova. "It's as if the central bank doesn't believe in its own strength."
Still, some economists see signs that inflation won't go much higher. 
"Inflation reached its peak and will begin to slow down in November," Renaissance Capital's Andrei Melaschenko and Sofya Donets wrote Tuesday, forecasting a 50 basis-point hike next month.