Russian Car Sales Crash 72% in 'Black April' Amid Covid Lockdown
Russian car sales declined the most on record in April, the first concrete sign of the toll a nationwide lockdown has taken on the economy, as dealers were forced to close down in an effort to contain the spread of coronavirus.
New car sales fell 72% from a year earlier to 38,922 vehicles, according to the Association of European Businesses in Moscow, which said the decline was the biggest monthly decrease since it began tracking the metric in 2007.
"'Black April' 2020 strongly challenged dealer liquidity and mid-term even their sustainability," Thomas Staertzel, Chairman of the AEB Automobile Manufacturers Committee, said in a statement Tuesday. "Dealers are preparing for restart, although I do not expect much better sales results in May."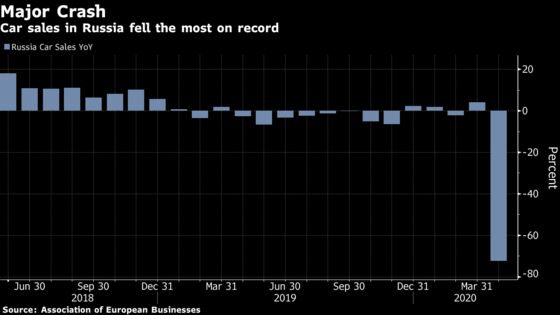 Coronavirus infections have spread rapidly in Russia despite the lockdown, which was instituted in late March. Russia passed Spain Tuesday for the second-most coronavirus cases in the world and added 10,899 new diagnoses over the last day, for a total of 232,243.
"The plunge in auto sales almost defies belief, but this is what it looks like when activity goes into a multi-week deep freeze. Broader retail spending will also see a double-digit decline, though it's likely to be less severe."

--Scott Johnson, Bloomberg Economics
Russian President Vladimir Putin this week announced the end of national stay-at-home period as the Kremlin attempts to contain the economic damage from the shutdown and the epidemic's impact on demand for oil, the country's most important export. But Moscow and other major cities will remain in lockdown for at least several more weeks. Economic activity has contracted by a third since the measures were implemented.
The slump came a month after sales unexpectedly rose in March, as buyers moved forward their car purchases before prices adjusted to the ruble's decline.
Retail sales are expected to have dropped 15% in April, according to a survey of economists by Bloomberg. Those figures are due on May 26.