Russian Agent's Family Faces Huge Legal Bills After Guilty Plea
(Bloomberg) -- The father of Maria Butina, the Russian who pleaded guilty last week in a Washington court to conspiring to act as an unregistered foreign agent, said he's run up hundreds of thousands of dollars in legal bills for her defense that he can't pay.
"The Russian government only provided moral and diplomatic help," Valery Butin said Thursday from his home in Siberia. "I'm not sure what we will do to pay back her lawyers, who thankfully have been very honorable in their dealings with us."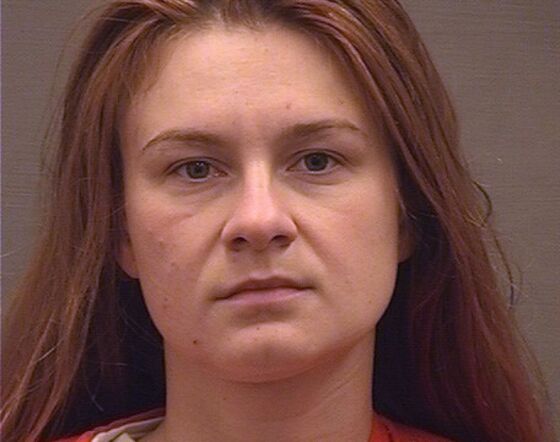 Valery Butin is a furniture maker in Barnaul and has been supporting his 30-year-old daughter's defense since she was arrested in Washington in July and earlier this month negotiated a plea agreement with U.S. prosecutors. Butina, a gun enthusiast and former graduate student at American University, faces a maximum of five years in prison but could receive a reduced sentence in return for her cooperation.
President Vladimir Putin, speaking at his annual press conference Thursday, said Butina "wasn't performing any assignments for the state or government agencies." He said Russia would continue to support her, without elaborating. The Russian embassy has posted appeals for donations to a legal-defense fund for her set up in the U.S. since at least October. Last week, her father said she'd gotten no financial support from the government.
Butina remains in jail. The next hearing in the case is scheduled for Feb. 12.
Over several years in Washington, she befriended National Rifle Association leaders and influential U.S. conservatives. Throughout that period, she was in close contact with Alexander Torshin, a deputy governor at Russia's central bank until his retirement in November, and helped organize a Russian delegation that he led to the National Prayer Breakfast in early 2017. President Donald Trump attended the event but did not meet separately with Torshin.
The U.S. government said in a court filing that it fears for Butina's safety after she reached the cooperation deal. Prosecutors requested an order that would ensure the presence of more than one law enforcement agent when transferring her to and from the jail that she has been held in since July.
Robert Driscoll, Butina's lawyer, declined to comment. A court order entered earlier this month said Butina also is being represented by A.J. Kramer, a public defender it identified as an "advisory counsel."